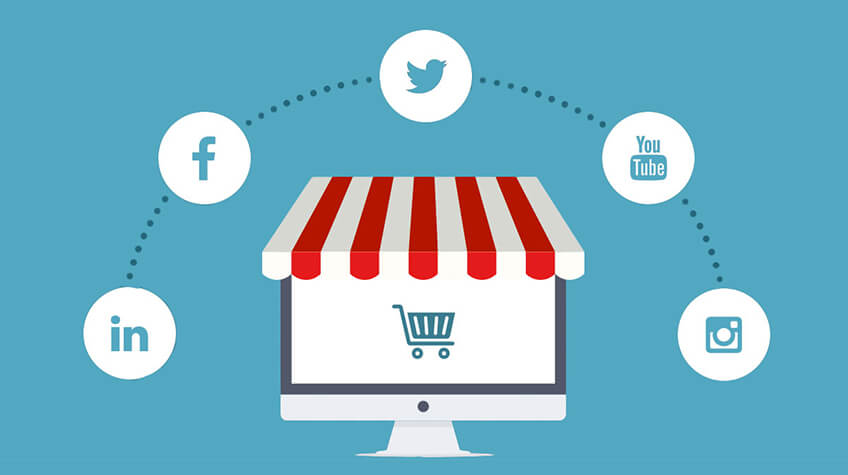 The pandemic led most consumers to adopt the online shopping model, which means good news for eCommerce websites as they received acceptance across several age groups. As consumer behavior changes in response to the pandemic, one tool that has played a vital role in this is social media. Social media is a crucial platform for young consumers, who are used to purchasing from independent retailers, to discover new brands. Middle-aged consumers also use these platforms to find brands.
It has become a necessity for eCommerce brands to incorporate a robust social media strategy. This should be a core of eCommerce's long-term strategy as social media is increasingly becoming the catalyst for eCommerce success. It does not matter if you are starting up your eCommerce business or you've grown to the point where you need to maintain an established customer base. Your eCommerce business can never outgrow social media marketing. So, you need to start creating your social media strategies if you don't already have them in place.
In this article, we will be discussing some of the fundamental social media strategies that you can't and should not do without as an eCommerce website.
1. Create unique content
After setting up your eCommerce website, the next step is to create content for your website. You must make high-quality and unique content for your website because it resonates with the customers uniquely, and they are more willing to interact with you, follow your business, and ultimately patronize you.
You must be original and creative with your content. This is how you make a statement about your brand. Use your content to strike compelling ideas and create your make on your user's mind. It is possible to create content that will deter customers, and it is just a fine line between good content and harmful content. So, you must be very careful when creating your content.
You must attach a high level of importance to your content, enough to make you take extra steps, and put in the effort to create genuinely compelling content. This content marketing strategy has a lasting effect that can continue to generate revenue for many years.
2. Stop selling, start sharing
Telling an eCommerce business to stop selling sounds like counterintuitive advice, especially when discussing marketing strategies. It is, however, essential to consider that we are talking about social media, and people don't go to these platforms primarily to shop, even if it can be an important piece in their customer journey.
For social media, it is crucial to build relationships first. The best way to do this is to share helpful information online and build trust with your audience before starting your sales efforts. Then, when the audience resonates and interacts with your social media content consistently, they will end up purchasing your product. So, you have to interact with your followers, host live chats, participate in groups, etc., to build relationships on social media.
3. Build authority and trust with your blog
You need to have a blog as part of your content strategy. It is not only crucial for SEO. It also facilitates social media engagement. You can also use your blog to pitch your new service or product and redirect some traffic to your site. Building a link between your blog and social media posts can help you create a smoother path for your customers' buyer journeys.
4. Promotional offers
Giveaways and discount campaigns on social media are effective ways to reach your audience and draw them to your brand through social media. This is a strategy that businesses have used previously and have been very successful with it. Social media promotional offers are one of the most effective campaigns that you can run on social media to give your brand more visibility, exposure, and engagement and win more customers.
You can also add polls to your social media post to magnify the engagement and give you deep insights into your audience's behavior and thought process.
RELATED: Use Social Media to Drive Traffic to Architectural Websites
5. Put your money where your mouth is
Investing in social media marketing is one of the best things you can do for your eCommerce website. Facebook ads have become a go-to strategy for marketers today, which confirms the importance of social media ads for increasing the engagement and reach of businesses. However, before you invest in social media ads, be sure that the platform you are investing in is where your ideal customers are. It has to be a platform to enhance your prospects' and customers' communication levels and improve your brand image.
6. Have a video strategy
Video content like social media video is currently the favored type of content. Little wonder YouTube is the top three most visited platforms in the world. So, it is essential to have your video strategy. This is an excellent addition to your social media marketing strategies. You could take advantage of the massive traffic on YouTube, as an eCommerce business, in several ways:
Generate brand awareness with a YouTube content marketing approach. About 5 billion videos are watched every day on YouTube, so you can use this to promote your brand to this large audience. YouTube ads give you an even more extensive reach on the platform.
Additionally, you can buy YouTube video shares to further amplify your brand's visibility and increase the chances of your content being seen by a wider audience. By purchasing video shares, you can enhance your brand's presence, increase engagement, and potentially attract more subscribers to your YouTube channel. This strategy can be a valuable addition to your overall YouTube marketing efforts.
Work with other channels, trendy social media influencers to create trust and instant connection.
Note that you must remain true to your brand tone and voice and make sure it is consistent.
7. Use social proof
The best way to build social proof for your eCommerce business is through customer reviews. This also helps you to convert new customers. You must note that people don't trust brands. They trust people. Customers also buy from people that they trust. This shows how important it is to put a face and voice on your brand, and what better face and say can you use than your customers'?
More than 80% of customers trust product reviews like a recommendation from their trusted friend or family member. You can leverage these reviews through social media and use them on your website and social media platforms.
8. Leverage on data
There are analytics tools on different social platforms such as YouTube Analytics and Facebook Analytics that allow you to track your audience's behavior, thought process, and the attribution from your paid ads. Performance-based communication is what we use today, with brands going through their historical data to note what their customers like and what they don't before launching a campaign. Marketers are also on the constant lookout, trying to connect the dots and weave out a straightforward path for their customer journey.
The only way to identify which sources contribute more to your conversions is with your attribution reports. Similarly, using a social media dashboard is also critical for your strategic decision-making.
Conclusion
As an eCommerce business, you cannot do without social media. You can't outgrow social media and its usage. So, you should put the strategies in place that help you maximize these platforms for your good. Seeing as you can make more customers, generate leads, increase revenue, drive traffic, improve conversion, increase brand awareness and exposure, and so on, social media makes it extremely important that you have effective social media marketing strategies.
Author Bio
Sherri Carrier is a professional writer at assignment writing help and a member of several writing clubs in New York. She has been writing her poems since she was a child. The young author gets inspiration from her favorite writers and people whom she loves.