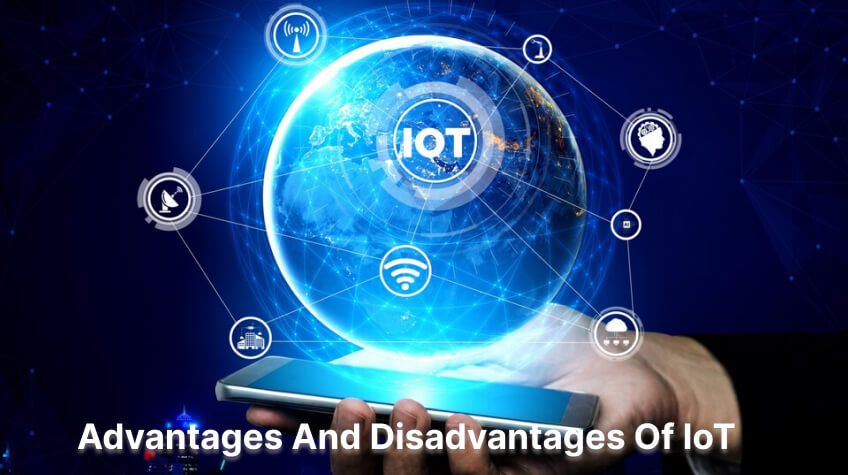 Internet of Things (IoT) is the latest technology that provides users with multitudes of benefits. More and more users are now utilizing IoT-powered devices for a seamless experience. There is no doubt that you are aware of this technology. However, are you aware about the IoT advantages and disadvantages ?
Not yet! Well, in such a situation, we would suggest you read this article. This article covers everything that you need to know about IoT, including its role, types, working methodology, applications, and the latest devices using Internet of Things technology, along with the advantages and disadvantages of IoT.
So, without any further ado, let's get started…
Table of Contents
Internet of Things
The Internet of Things, popularly known as IoT, is in the mainstream today. From landscapes to flying drones, in every field, you can integrate IoT technology to elevate your life standards and save time. Imagine you're too tired to turn on the air conditioner or adjust the temperature. No worries. Yeah! Just with one click from your phone, you can turn on or adjust the temperature according to your needs.
IoT technology-incorporated devices have made life easier than ever for people. Be smart and choose to use them to enjoy immense benefits. Now, let's know about IoT in detail.
Role of IoT in today's world
IoT has become an integral part over the past few years. Most probably everyone has heard about IoT, hasn't it?
Probably you know that it has become important. Yes, but have you ever thought about why IoT has become so crucial for life?
Yeah! For sure, the Internet of Things is indispensable to elevate your life in this digital era.
In that instance, what does it actually do? Why is it so important? Let's dig them into detail. As per the survey, IoT is all set to become one of the top technologies in the future due to its efficiency.
The Internet of Things lets the world connect with people and businesses. It is a complete solution for many problems and integrates four diverse and important components. They are sensors, devices, connectivity, data processing, and user interface.
In simple terms, the Internet of Things (IoT) enables the connection of various properties owned by individuals, regardless of their physical distance from each other. Embedded system connectivity enables the exchange of data over the internet, making such things possible. IoT technology, ranging from doorbells to smoke alarms, promptly notifies users and helps prevent significant damage.
Hope you get an idea about the role; let's now take a glance at how it works.
How does IoT work?
The IoT ecosystem consists of internet-connected smart devices, which also use embedded systems. It includes processors, communication hardware, sensors, and other things to collect, send, and notify the users about the current state of the environment.
IoT-powered devices check the overall environment; if there are any suspicious activities, these devices alert the users or owners. For instance, if a fire accident happens near your home, then from the connected IoT devices, you can get a message or alert about it.
Internet of Things technology and smart devices play a vital role in creating a sustainable world. Let's embrace them and adapt accordingly to gift a new world to the future generation!
But do you know what IoT applications are? So far, many users have incorporated this technology into their routine, and it all started with smart gadgets. They make our daily lives easy by being a helping hand to complete the tasks and other things on the checklist.
However, keep reading to learn about the applications and types of IoT in this fast-paced world.
Types of IoT
In this ever-evolving digital world, Internet of Things technology holds a huge place and is effectively used in various industries. However, there are different types of IoT available that are tailored to specific industries. Let's take a glance at them.
1. Consumer IoT
Consumer IoT is specifically designed for potential users and the consumer market. These devices are designed for everyday use and can be connected to various smart gadgets such as smart wearables and smartphones.
The development of CIoT is primarily driven by the increasing demand for smart and multimedia devices. In addition to this, IoT helps users efficiently accomplish their everyday tasks and responsibilities.
2. Military IoT
As the name says, Military IoT devices are designed specifically for defense purposes. While some may view certain technologies as a curse, when used appropriately, they can prove to be beneficial. Similarly, technology enthusiasts utilize the Internet of Things (IoT) in military services to provide various forms of assistance to soldiers.
The Internet of Military Things encompasses a diverse array of devices that are equipped with advanced physical sensing, actuation capabilities, and integrated systems for learning. IoMT technology provides numerous advantages to the armed forces, ranging from enhanced battlefield awareness to training in virtual reality environments.
3. Industrial IoT
Industrial IoT, as the name suggests, is designed for industrial purposes. It is a device ecosystem comprised of sensors, applications, and other associated network equipment to collect, monitor, and analyze data from industrial operations.
IIoT enhances the safety of workers and increases production time through predictive measures. On the whole, industrial IoT elevates the working environment and helps to make information-based decisions.
4. Commercial IoT
From the name, you get an idea about the purpose. Yes, commercial IoT is used in healthcare, transport, and other consumer-focused Internet of Things business applications.
It helps business owners to streamline their businesses. Managing traffic, handling waste management, streetlight optimization, monitoring energy expenditure, etc., are some examples of commercial IoT.
Applications OF IoT
The Internet of Things (IoT) is widely used in a range of industries and offers numerous advantages. However, there are also some disadvantages. This section focuses solely on the applications, advantages, and disadvantages of IoT.
1. Healthcare Industry
When it comes to integrating IoT, the healthcare industry is at the top. IoT offers enormous benefits in the healthcare industry. IoT can be integrated with several machines and tracking systems. IoT-enabled devices help medical practitioners streamline their processes.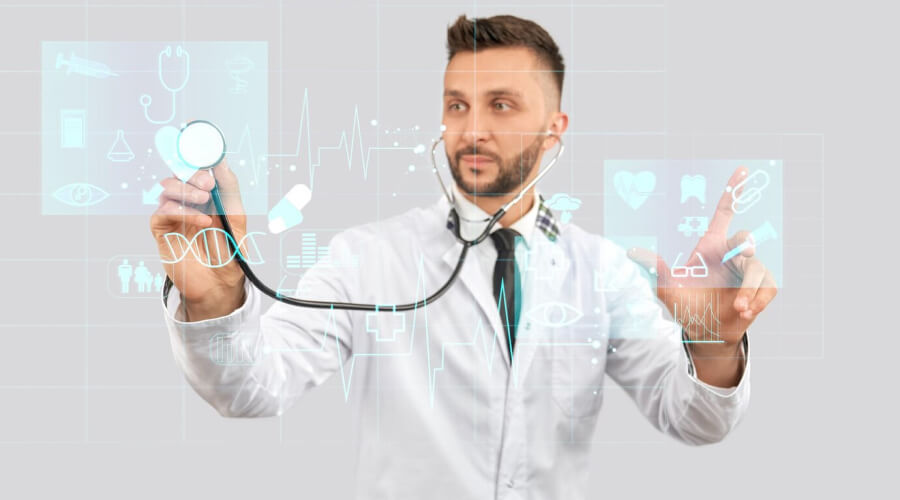 Here are some of the examples of IoT-enabled devices in the healthcare industry: Implantable glucose monitoring systems, activity trackers during cancer treatment, heart monitoring and reports, ingestible sensors, medical alert systems, trackable inhalers, wearables to fight depression, connected contact lenses, etc. These devices make monitoring and reporting a breeze for healthcare practitioners.
➤ Advantages of IoT in Healthcare
The integration of IoT technology in the healthcare sector improves patient care by automating and streamlining various manual processes. It offers prompt medical attention to patients, resulting in time and cost savings.
➤ Disadvantages of IoT in Healthcare
However, it is important to note that smart devices are susceptible to cyberattacks. Misusing the information is a rare occurrence. The cost can be quite high, and ensuring data privacy can be a significant challenge.
2. Fleet Management
Another use of IoT devices includes fleet management. Fleet management might be a daunting task because monitoring different vehicles at a time and managing calls is quite challenging. Managing vehicles especially becomes difficult when there are many. However, with efficient cloud connectivity and tracking systems, IoT makes fleet management easy.
For instance, integrating IoT sensors into fleet equipment provides information to fleet managers. It tracks the vehicle's location and current status, whether it is a car, bus, ship, or any other fleet. Many businesses, including waste management companies and Government organizations, are using IoT-enables tracking systems to streamline their operations.
➤ Advantages of IoT in Fleet Management
Integrating IoT in Fleet management offers various benefits, such as reducing work and making operations easier and more efficient. IoT's automated process helps drivers and managers with predictive analysis and warns the user. It provides better analytics and enhances productivity.
➤ Disadvantages of IoT in Fleet Management
Proper infrastructure requirements could be a barrier; if the internet is interrupted, then you might miss out on some information. It is quite expensive to set up, and adapting to this technology might be tough.
3. Traffic Monitoring
Traffic management is quite an issue, especially in countries like India. Traditional traffic management systems are not so effective. IoT-enabled devices can help monitor traffic in no time. It helps commuters save a significant amount of time. Experts are looking into the integration of the latest technology, the Internet of Things (IoT), into traffic monitoring as an alternative to traditional methods. So people can witness smart traffic lights that utilize sensors to monitor real-time traffic.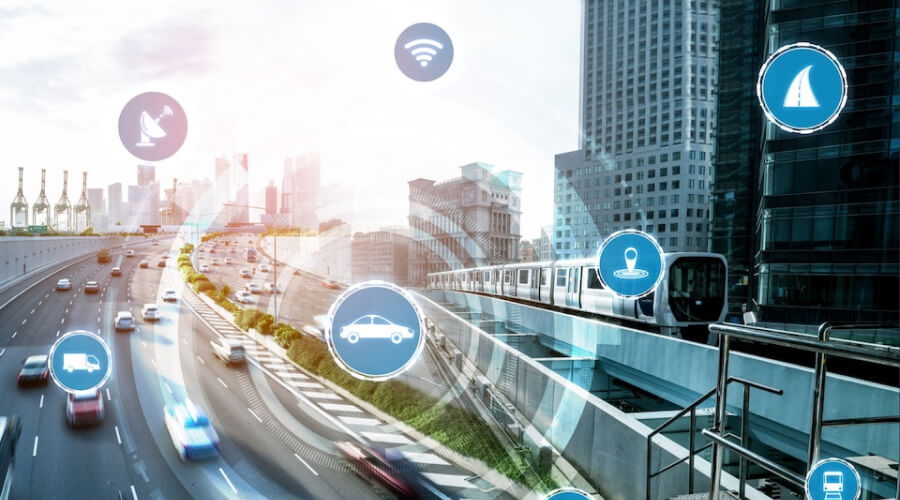 However, these ideas are ongoing discussions, and implementing them holds many advantages and disadvantages. Let's know about them.
➤ Advantages of IoT in Traffic Monitoring
Smart IoT traffic monitoring reduces traffic jams and street accidents. Moreover, having an idea about the traffic jams in a particular route can help people to take different routes and save a significant amount of time. In addition, with accurate tracking, the lost vehicle can be easily recovered. All in all, IoT traffic monitoring can be very beneficial for people and the Department of traffic enforcement by effectively ensuring emergency navigation, road safety analytics, modular control, and rules.
➤ Disadvantages of IoT in Traffic Monitoring
Opting for IoT in transportation has the chance of cyber threats. Incorporating high-tech network infrastructure might be a big challenge. In addition, these systems can cost the government a huge amount.
4. Hospitality
The hospitality sector purely depends on customer satisfaction. Customers want to have the best experience. That's why, in today's environment, businesses take extra care in everything from running a company to providing customer service. In that instance, incorporating IoT technology into the hospitality services sector can help businesses significantly.
Indeed, you can enhance your customers' experience and give them a compelling reason to return. Enhance your hospitality service by incorporating guestroom automation, smart hotel maintenance, seamless integration with third-party applications, and leveraging smart consumer products.
➤ Advantages of IoT in Hospitality
IoT technology can help hoteliers and restauranteur to enhance services and the customer experience. The predictive analysis offered by Hospitality IoT helps businesses improve maintenance and enhance security measures. You can even offer voice-controlled guest services.
➤ Disadvantages of IoT in Hospitality
Security breaches can be a major concern. Connecting every device in a digital infrastructure might result in privacy problems and network issues. Adapting to the new service mode might be difficult for the customers and would consume more time.
5. Agriculture
The agriculture sector is another industry that greatly benefits from IoT technology. Undeniably, agriculture is the most important sector for the nation's development. IoT technology helps in enormous ways and contributes to its development. For instance, via IoT-inherited devices, you can monitor crops and livestock, irrigation management, smart pest control, fertilizer management, and weather forecasts.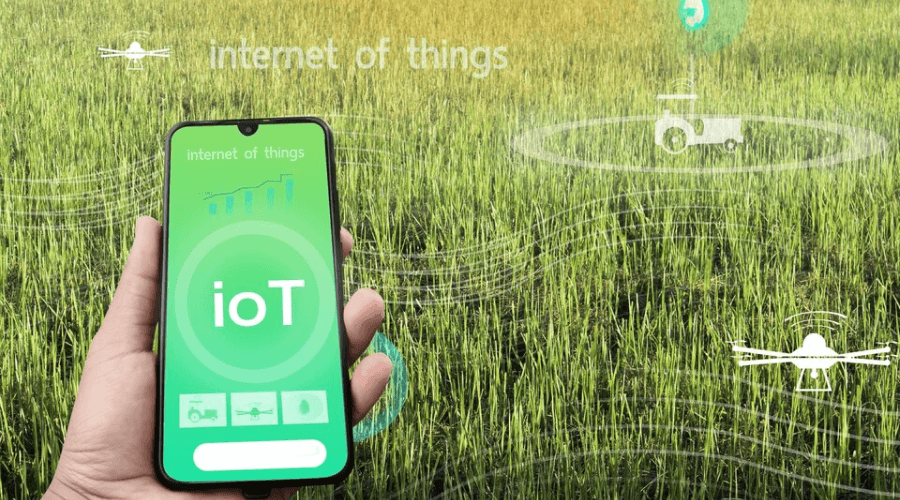 Thus, choosing IoT technology devices to elevate your cultivation and harvesting processes is essential.
➤ Advantages of IoT in Agriculture
Process automation offers numerous benefits to farmers, including improved data collection, optimized resource utilization, end-to-end control of production, reduced waste, and a cleaner environment. These tools enhance the process of cultivation and provide timely updates on crop status. In order to create a personalized IoT solution, it is important to first identify the specific requirements of the farm.
➤ Disadvantages of IoT in Agriculture
The primary concern is the lack of infrastructure and high expenses associated with farm fields. Moreover, no reliable network connectivity can be yet another issue. Another disadvantage to consider is the potential for security issues.
6. Water Supply & Water Management
Yes, you read it right! Incorporating IoT technology in the water supply can be helpful in many ways. A smart water meter tracks the water's pressure, quality, and consumed quantity in the household.
Such smart IoT, water supply devices encourage a safe environment and assist in leakage detection and water waste reduction. You can even utilize them for irrigation facilities in farms or water gardens.
➤ Advantages of IoT in Water Supply & Water Management
Due to its transparency and tracking system, it continues to offer improved control in the whole water supply chain. With the sensors, you can also ensure the purity of water that encourages your good health.
➤ Disadvantages of IoT in Water Supply & Water Management
Third-party attacks are a common disadvantage in the overall integrated systems. Smart sensors are way too expensive and cannot be afforded by everyone. Regular monitoring of water quality is a time-consuming process.
7. Retail
The retail industry is vast. Integrating Internet of Things technology into retail sales makes potential consumers more convenient and comfortable. There are many use cases available, such as self-checkout, personalized marketing, monitoring, inventory management, product tracking, product usage and tracking, retail store layout optimization, and energy management.
Sensors track goods in production and delivery to ensure their current state. It assists in enhancing the supply chain and customer satisfaction.
➤ Advantages of IoT in Retail
Optimizing supply chain management can greatly improve the overall customer experience. Furthermore, it enhances productivity and promotes a safer work environment.
➤ Disadvantages of IoT in Retail
It has interoperability challenges, and a lot of complex tasks must be performed that could be difficult. Most likely to face connectivity and power dependency issues.
8. Home Automation
Undoubtedly, IoT devices are exclusively known for building smart cities. These devices are suitable for individuals who prefer to maintain an advanced lifestyle. Many of you've heard about smart home gadgets like thermostats, locks, clocks, and so on. These applications are solid examples of IoT.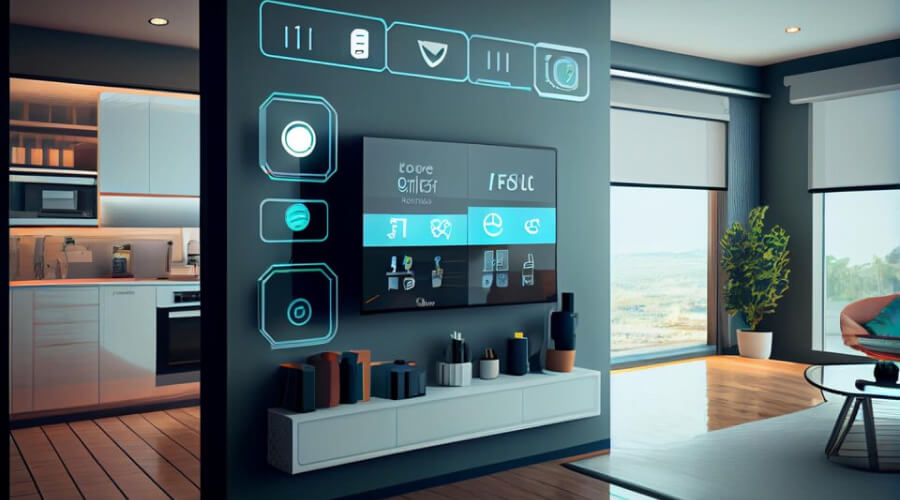 With one click, you can adjust the temperature according to your needs, whether at work or on a balcony. So, IoT home automation devices make users more convenient and comfortable.
➤ Advantages of IoT in Home Automation
IoT-enabled home devices let you manage and monitor your home status from any place. In addition, these devices help you save energy, enhance appliance functions, and provide you with convenience.
➤ Disadvantages of IoT in Home Automation
The initial investment required is relatively high, and there is a significant risk of third-party attacks.
Most Popular IoT Devices
In today's world, there is a widespread trend of digitalization, with people readily embracing smart cities and the latest technological gadgets. IoT technology holds a significant position in the list, and it is worth exploring the most popular IoT devices of this era. Here are some of them:
Smart Home
Amazon Echo
Footbot
Google Home Voice Controller
Philips Hue
Smart Locks
August Doorbell Cam
Nest Thermostat Smart Thermostat
Wrapping it Up!
So, with that, we conclude the article. We hope that this article has been informative for you. You've explored diverse things about IoT and its advantages and disadvantages. We believe that you have gained a clear understanding of this technology and how it enhances the quality of an individual's life. Imagine being able to remotely control electronic devices from anywhere in the world while receiving instant alerts about events taking place in your home. Indeed, it will provide a sense of well-being and guarantee your safety and security. IoT is going to stay for a really, very long time. Hence, embracing this ever-evolving IoT technology and revolutionizing the world is the way out to stay ahead in the game!