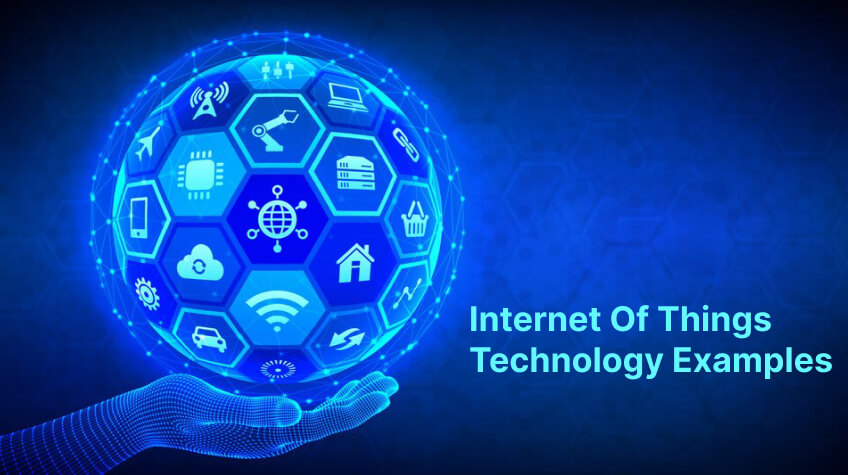 The Internet of Things, or IoT, is a collective network of connected devices and technology. It facilitates seamless communication between physical devices, clouds, vehicles, appliances, and more objects. They are embedded with sensors, software, and network connectivity, which allows them to connect and share data.
Devices with IoT are popularly known as Smart Devices. These devices range from ordinary household objects to industrial tools. Over the past few years, the Internet of Things has been one of the significant technologies in the world. According to a study, there are more than 7 billion connected IoT devices available.
The best thing about this technology is that it can connect with everyday objects like kitchen appliances, cars, thermostats, etc. Seamless communication is possible between people through the internet via embedded devices. In addition, it makes communicating with processes and things a breeze for all.
Many organizations and industries from different sectors are using these devices to enhance their efficiency. Internet of Things helps entrepreneurs deliver enhanced customer service, have increased ROI, seamless processes, and improved decision-making.
So, if you're looking for some of the Internet of Things Technology examples, this post is for you. In this post, we are sharing with you some of the best examples of IoT for you to consider using.
Let's get started…
I. Top IoT Technology Examples In Everyday Life
Internet of Things technology applications are in every sector and every facet of daily life. These applications are mostly cloud-based, so that they can be deployed and operated on a worldwide basis.
When it comes to the home, smart IoT applications are all in the range. People can monitor and control kitchen applications with just a few taps on their mobile phones. The appliances That are compatible with Apple Home or Amazon Home connects are controlled using Alexa and Siri voice.
It tends to operate more intelligently, enhance quality of life, and support people's well-being behind the scenes. Find below some examples of smart home devices using Internet of Things technology.
1. Smart Home Security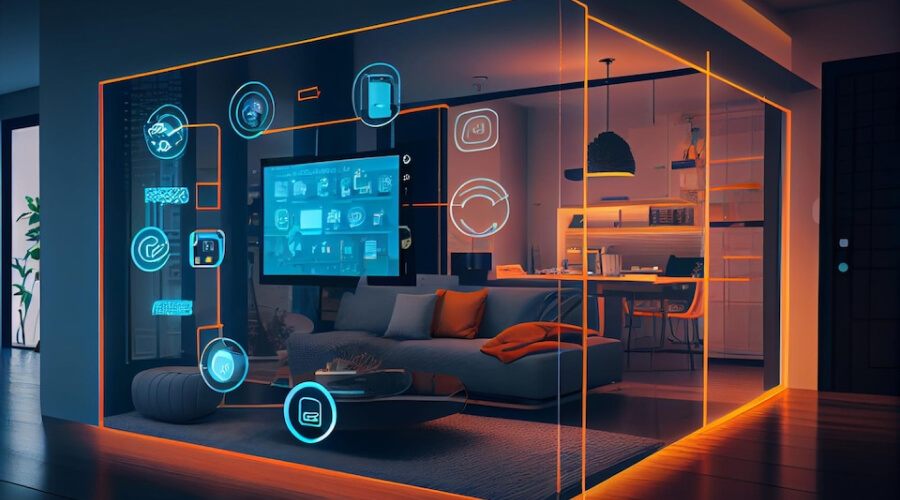 Smart home security is one of the best Internet of Things technology examples. It utilises a collection of IoT-enabled products, such as Smart Home Devices, allowing users to monitor and manage home security. It includes with
● Window and door contacts
● Glass break and motion detectors
● Heat, smoke, and water detectors
● Security alarm pads
● Cameras
● Smart doorbells
You can install a mobile or desktop application to get alerts from the server to your device. Also, monitoring the activities around the living spaces is quite easier through sensor logs and cameras. Yeah, this IoT application has specific features like iris scanning and voice recognition.
2. Smart Home: Heating & Healing
Adjusting temperature and humidity has become a breeze with IoT-enabled devices. By fixing the smart sensors in the required living areas like the bathroom or workout spot, you can adjust the temperature and humidity. Adding to this, the developing team comes up with innovations, including smart thermostats and sensors to simplify heat adjustments.
Moreover, it can be connected to Wi-Fi and accessed through smartphones. So you can enjoy adjusting the temperature from anywhere, such as from your kitchen, car, couch, etc. IoT-enabled devices make things easier for users.
Harness the power of the latest IoT technology-based applications to elevate your kitchen to the next level. You can choose from among the options outlined here:
3. Smart Home Kitchen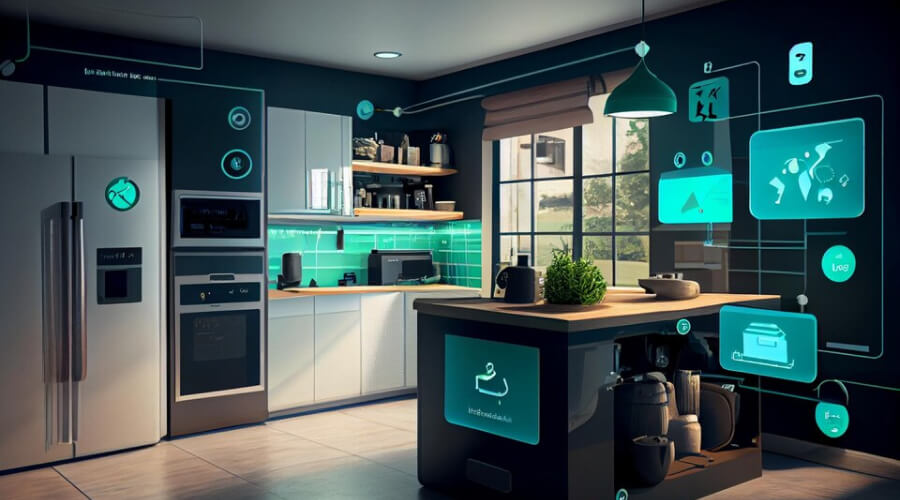 ● Wi-Fi-Enabled Fridges
● Faucets
● Gas And Electric Ranges
● Microwave Ovens
● Coffee Makers
● Pizza Ovens
● Wine Coolers
● Dishwashers
● Toasters
In addition, there are also Wi-Fi-controlled washers and dryers available for laundry purposes. Choosing smart toilets and installing cameras inside the fridge is truly astonishing, as they offer a wide range of features that assist in monitoring various aspects. Smart appliances are designed to work seamlessly with voice assistants such as Siri, Alexa, or Google Assistant. Users can easily turn on their smart appliances by simply asking any of these voice assistants.
4. Smart Driving
Numerous examples of Internet of Things technology are deployed to enjoy everyday life, and smart driving is one of them. These days, driverless cars and vehicles are ubiquitous. Automated cars come with sensors that also detect mechanical problems and collisions.
The widely used Internet of Things application is also used for navigation. They are Waze, Google Maps, and Apple Maps, which you can use on your mobile phone or in car dashboard variants. These apps assist you in everything from A to Z with the combination of GPS network and cellular. It also makes tracking the vehicle's location and getting updates in the cloud server a breeze.
5. Wearable
Computing devices have become an integral part of our daily routine in this fast-paced digital world. They hold a significant place and are indispensable in our lives. These categories encompass personal fitness, leisure activities, wellness practices, and healthcare services. These wearable devices track and store data using biometric sensors.
Smart accessories, such as watches and rings, can provide this information. What is the purpose or benefit of it? What is your preference for purchasing them? The device's significant features enable the monitoring of glucose levels and blood pressure. Many fitness trackers commonly include an accelerometer, which is used to measure steps during walking and detect various movements like golf swings and more.
6. Healthcare
The healthcare industry also utilizes smart devices to streamline their processes. There are numerous IoT-enabled devices associated with health and wellness. Such Internet of Things tech applications are the most preferable options to get instant assistance for a while. Healthcare IoT-enabled devices can help healthcare professionals with regular tasks, such as monitoring patients' heart beat rate, temperature, blood pressure, and sugar level.
The smart pillbox is one of the creative Internet of Medical Things (IoMT) applications to record patient data. In addition, they keep the patient records up-to-date, including their prescriptions. Whenever patients miss a dose, it sends a message. From this, you can witness the growth of IoT and feel free to use them in your daily life.
7. Disaster Management
People and industries can't be aware all the time about natural or any other disasters. Unexpectedly, it changes your life upside down, isn't it? Yeah, for this reason, you can leverage the Internet of Things technology applications that predict and help manage natural disasters. It can be used to avoid the chaos and destruction caused by a forest fire.
Unbelievable, right? You can install them in the boundaries of the forest area to detect them. Besides that, regular reports can be sent to the common monitoring hub in detail because of IoT. In case of a forest fire, an alert is transmitted to the police station, and control room, fire bridge. So, they can take charge of those emergency times with IoT help.
8. Process Automation
In manufacturing industries, many complex tasks need to be performed, such as label wrapping, packaging, and reoccurring tasks that may be prone to human error. In this scenario, automation plays a crucial role, facilitating the sharing of information through the interconnection of the Internet of Things. By analyzing their status and data, you can proactively identify any faults. An industry equipped with IoT technology is beneficial because it increases production speed. It ensures that the product's quality is maintained throughout the protection process. By reducing human error, it enhances workplace safety and efficiency.
9. Farming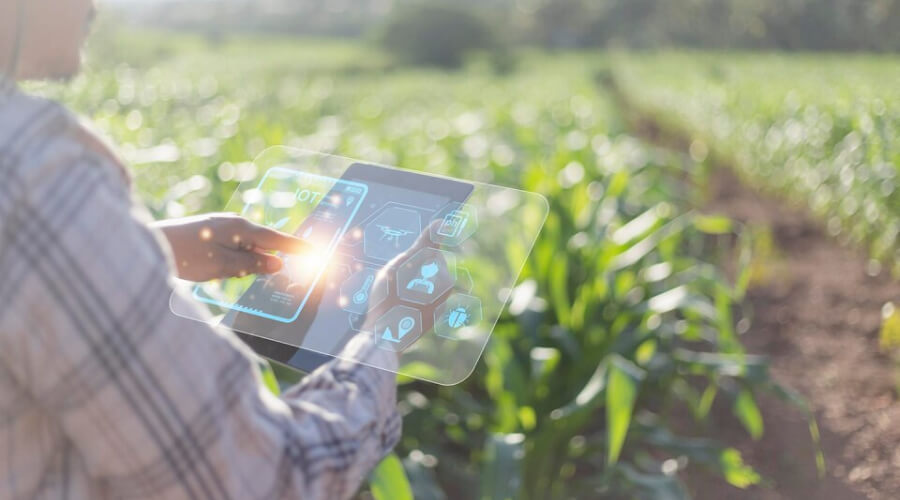 Farming is yet another sector that uses the Internet of Things to streamline processes. Due to the water crisis and sudden climate change, farmers experienced a lot of troubles. They may face crop flattening, soil erosion, drought, and flooding. These problems can be easily suppressed by using the Internet of Things applications, which are exclusively developed for farming.
The IoT-based irrigation system is a significant tool for monitoring soil moisture content. The irrigation pump is automatically activated when the moisture level rises. Before embarking on new crop cultivation, farmers should carefully choose nutrient-restoring crops that will optimize the soil's fertility. IoT farming applications also help ensure this and assist in analyzing soil health.
10. Shopping Malls
Utilizing the Internet of Things technology in shopping malls is one of the well-known and implemented ideas for efficient billing. All the malls, irrespective of their size, use the barcode scanning system to streamline their payment systems. Once it is scanned, it extracts the necessary information and sends the data to the host system.
The computer is connected to the billing machine that hands over the bill to the customer after the process. All these devices are connected with the help of the Internet of Things so that paying bills through barcodes becomes simpler and faster.
II. Smart Cities IoT Examples
In this fast-paced, hasty era, smart cities are emerging as fast as life. To meet such urbanized people's expectations, everyone needs to leverage the latest technology, the Internet of Things. This helps to manage time efficiently and offer custom-tailored cutting-edge solutions. IoT supports them in these things,
● Management Of Urban Infrastructure
● Parking And Traffic
● Electric Vehicle Charging
● Waste Handling
● Information Sharing and Security Services
11. Smart Pest Removal
Regarding the businesses and citizens in the city, rats and mice are also one of the problems. Every man can get rid of pests in an efficient way by incorporating the Internet of Things technology. They can reduce a large part of working time by checking manually whether traps are filled or not because of digital rat traps.
You get the notification through sensors and automatic status messages. It gives a complete overview and improves the ability to take advanced action against pests.
12. Smart Meters For Utilities
Smart meters are the best way to measure electricity consumption. Incorporating them with IoT is a boon to mankind. It is because you get seamless integration and enhance the quality of delivery services. For this utility, smart meters, Narrowband IoT, and Lightweight M2M are the most suitable ones.
Usually, the traditional metering system requires monthly manual reads, residents, and businesses that are connected. But smart meters can work automatically and give the report data. It is especially for enabling real-time usage monitoring and reporting. Thus, they also assist in getting report data back to utility providers.
13. Smart Road Signs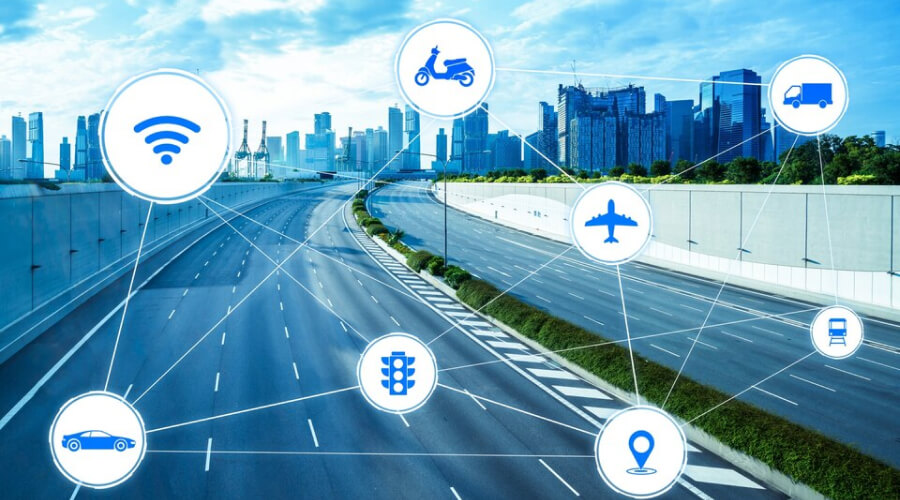 When signs overturn on highways or any place, it is dangerous. Also, they are expensive to check the entire place manually. Therefore, the Internet of Things is a better choice because it can save a big part of the time that you ought to spend manually. You can go with this to check them upright.
It reduces the working hours on controlling the signs and reduces the transportation costs. Additionally, they increase security in traffic and major part to reduce CO2 by less transportation.
Even Smarter city Internet of Things technologies which are
● IoT smoke detectors
● Smart climate control
● Smog, noise, and traffic monitoring
● Digital sewers
III. Industrial IoT Technology Devices
The Internet of Things technology is used in enterprises to reduce costs. Do you want to know how this is possible? It lowers costs by minimizing
● Working hours
● Downtime in production and machines
● Waste of expensive equipment
However, below are some examples of IoT applications that help to minimize working duration. Let's delve into them in detail.
14. Digital Tracking Of Roller Cages
Most companies often waste their water resources on handling their assets. Such as pallets and roller cages; many industries use plenty of roller cages to move goods between customers and suppliers. Hence, it is difficult to know where they are located and note the count of them.
By installing the Internet of Things technology device, users track their location. Also, note the status at any time, which improves inventory management.
15. Efficient Logistics With Smart Containers
Smart containers are expensive and inefficient for the suppliers, but with IoT, users can equip their containers through smart sensors. Due to its efficiency, they can track throughout the value chain. Besides, it automatically reports on fill-level data.
How is IoT better for industrials?
In addition to smart home devices, this is the foremost significant technology in business and industry. From the factory floor to the customer's door, it delivers insights from machine performance to the supply chain. Additionally, it is excellent for logistics operations and allows companies to work in automated processes.
Companies do not need to depend on laborers to work extra time when they have these technological applications, which means you can save money. More than anything, they reduce waste and improve service delivery. It ensures that it is less expensive to manufacture and deliver goods. They provide transparency into customer transactions, which increases safety.
From end to end, it allows companies to reduce costs and improve quality. Even the shipping is more predictable, and the industry can grow more by incorporating them.
Last Few Words!
So, there you have it: the best Internet of Things technology examples. We hope that this article has been informative for you and has helped you explore some innovative and useful examples of IoT, harnessing the power of this latest technology to simplify life and work.
You can use these IoT-enabled devices according to your requirements to embrace change and save your pockets!