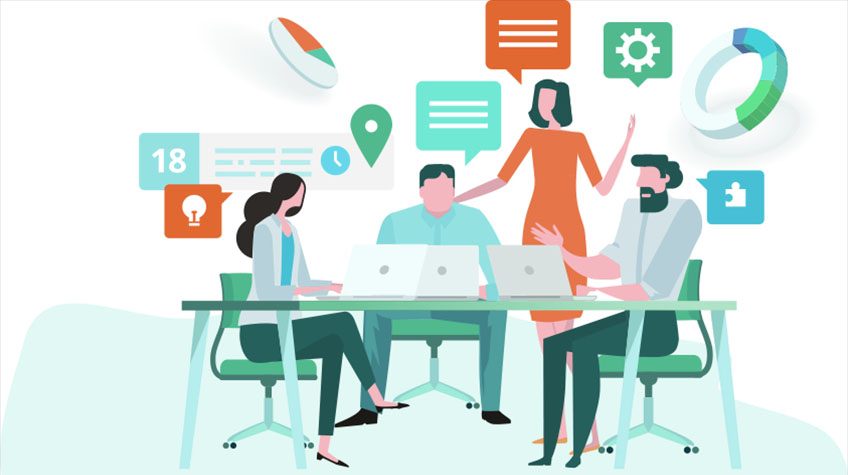 Salesforce has become one of the most powerful operations in 2023. The application generally allows its customer to customize the standard application, or you can create it on your own.
People think that working in Salesforce would require a vast knowledge of coding, but it is really easy to use if you have proper guidance.
The Salesforce certification is required to get selected by any company when you apply for any job in your field.
Even if you update your biodata with multiple skills and experience, you need to enhance it with the right salesforce certification.
This certificate shows the recruiters that you are a well-skilled person in your working field. The Salesforce certification will help you boost your career by giving you many opportunities without wasting a single penny of or time.
Salesforce Certification
Many businesses or recruiters are interested in hiring candidates who have good experience and information about Salesforce.
Competitors get their certifications done easily through this application which is the main reason to use the Salesforce application.
The results show that about 2 million job opportunities in the cloud computing field were made accessible for those individuals who had this type of certification.
Salesforce generally provides distinct certifications. A salesforce system guides you in managing CRM through marketing and management.
The eight distinct certificates it provides include Salesforce Administrator Certification, Salesforce App Builders Certification, Salesforce Architects Certification, Salesforce Developers Certification, Salesforce Marketers Certification, Salesforce Consultants Certification, Salesforce CPQ specialist Certification, and Salesforce Pardot Experts Certification.
Benefits of this certification
If you look at the technological development of CRM, you will understand why this certification is this important. One can improvise their grasping ability in this platform by choosing this certification.
It helps you increase your marketability in the IT job market, which helps you be a subject matter expert.
This platform offers some training sessions for you. You can attend them at your convenience. After completing the training, you will get certified in a few hours, days, or months. So, in this way, one can control their Salesforce career path.
On this platform, you can add more than one certificate.
The reasons why Salesforce is important
There are various reasons why choosing Salesforce is important. Some of the reasons are given below:
Salesforce is very easy to use as you can get yourself logged in from anywhere. You can communicate with your colleagues and update customer data whenever you wish.
You can customize as per your choice, including adding fields or models, changing workflow, or creating a sales process with salesforce customization in a project.
You can save time and money by using reporting tools. It is also customizable, enabling contract management, real-time reports, and analytics.
It is the one platform for all businesses. Salesforce's multitenant architecture always ensures that this platform is continuously updated so that the customer's data will be secured.
It can integrate various apps into one place through API (Application Programming Interface). Your colleagues and employees can see all information like Customer payments, support, marketing, etc., in one place.
Salesforce can give higher revenue than other CRM. You definitely can target future customers through this platform more effectively.
With AppExchange, you can surely develop and market your app. Also, you can access multiple verified apps.
Through this, you can work and exchange the data seamlessly with the people of multiple departments.
Salesforce development companies are constantly looking for innovative ways to develop their services.
They are trying to invest in product improvements by incorporating the latest technologies such as big data, ML, and AI to improve product performance.
The importance of learning Salesforce
Salesforce platform now literally dominates the world market as over 150,000 companies boost their business growth with the help of Salesforce. Starting from small businesses to giant tech companies like Facebook and Google are using Salesforce to solve their business problem. Various industries have already adopted Salesforce for their work needs and everyday processes. The scope for the Salesforce career is vast as there are many jobs for Salesforce available in the market. So, it is indeed very important to learn Salesforce.
Salesforce certified administrators can earn between $40,000 and $100,000 per annum, depending on their experience and education levels. Besides, the average salary of a certified developer can go higher.
While training, you can get lots of information. You can utilize it later and your past theoretical knowledge to get the best and most important outcomes for your company. Different tools are there to use in improving the relationship with clients.
The more you have the certification, the higher your chances of showing your capabilities. With the certification, you can get more interview calls. It also increases your chances of getting selected by various companies. People selected with Salesforce certification were offered an $89,850 pay scale.
Many companies face problems using Salesforce as they do not know how to optimise their sales force. So, if you are Salesforce certified, you can help your company customise and optimise Salesforce. In this way, the company will be benefited from your certification.
One of the reasons to have Salesforce certification is that you can focus on your analytical skills. With the certification, you can have a detailed insight into these trends. This will help you to understand the trends in sales.
The critical part of a sales representative is to make the deployment of accounting planning in a proper way. With the certification, you will be able to plan very well. On his platform, you will be able to control the navigation, and you will know how to solve customers' problems.
People always opt for cloud technology because it releases information about all new updates and also lets you know about the benefits that will help you in the future.
The certifications will allow you to understand how to bring your company to the top position in this competitive market. With this, you can become the company's needs as you are completely aware of the best strategy that is trending.
Conclusion
Entering the world of Salesforce can be life-defining and life-changing for anyone. It is a kind of ocean where you can have endless opportunities. So, please get the opportunity to start your career with Salesforce as it offers great job roles, the best salaries, and a healthy career.