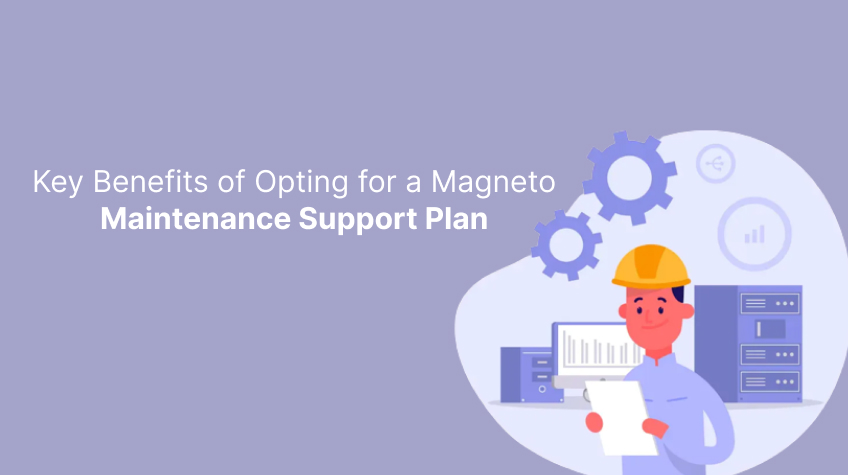 Having a Magento Website developed and successfully launching it is not a one-size-fits-all solution.
If you want to keep your Magento store always up, maintained, and running smoothly, then this comprehensive guide is for you.
In this article, we have shared the benefits of Magento Support and Maintenance services for successful Magento stores such as website audit, optimizing website speed, bug fixing, website security, latest version update, and many more.
Global professional services giant Amazon, Myntra, Nike, Adidas, etc also prefers to use website maintenance & support services.
Best part?
You'll find a list of benefits for opting for a Magento Maintenance Support Plan for your Magento store right away.
Let's get started.
What Is Magento Support And Maintenance?
Magento support and maintenance is the ongoing process of regularly updating, optimizing and managing a website to ensure its smooth functioning and optimal performance. For an eCommerce business, website maintenance & support holds immense significance in today's digital landscape.
Contrary to popular opinion, website maintenance & support doesn't usually just involve bug fixes.
Instead, it has a lot to do with how visually engaging your website is. Some important functions of website maintenance and support are
Correction
This step involves the effort required to identify each and every problem by monitoring the website or discovered by users and resolving those issues on a priority basis.
Adaptation
One of the most important services includes in the Magento website maintenance & support plan is to upgrade and maintain the software/themes/extension in accordance with emerging trends.
Perfection
To reach long-term objectives, perform all the necessary tasks.
Prevention
This step includes the process where you need to ensure that any bugs, defects, faults, or issues don't surface in the future.
Magento support and maintenance services generally include
Magento Troubleshooting
Website Audit
Security Scans
Code Edit (if any)
Performance optimization
Bug Fixes
Themes and Plugin updates
Security patches installation
Ongoing support and much more….
Let's go through the key benefits offered by Magento support & maintenance service
Why Is Website Maintenance & Support Required?
Try approaching it in this manner. Once your ideal home has been designed and built, so will you then just abandon that, or will you plan some budget for renovations that might be mandatory in the future?
Naturally, you will make a future renovation budget plan, right?
The same idea applies to your Magento stores (websites). Any eCommerce website you build and run on will require maintenance to remain operational.
Benefits Of Magento Support & Maintenance Service
Have you ever wondered why you need to maintain your Magento store? This is the answer you need.
1. Improved Website Security
Security is crucial. Regular website maintenance helps protect your customer and business data from online attacks and cyber threats. With the increasing number of online threats & attacks, keeping your website up to date with security patches and software updates is crucial in safeguarding sensitive information.
2. Guaranteed Better Customer And User Experience
Website maintenance prevents glitches while going through your website and thereby improves your users and customers' satisfaction.
A well-maintained website runs smoothly in the future and also provides website visitors with a seamless browsing experience, and increased customer satisfaction. By regularly monitoring and optimizing your website's performance, you ensure that users can navigate effortlessly, find information quickly, and enjoy a smooth interaction with your brand.
3. Shorter Website Load Time
A website not maintained might load slower with time, updating the extensions & themes will create a faster load time and improve user experience.
4. Increased Search Engine Rankings
Search engine favors websites that are regularly updated & properly maintained. You improve a website's chances of ranking higher in search engine results by fixing broken links, regularly updating the website with fresh content, and optimizing your website's structure. This, in turn, boosts your online visibility and drives more organic traffic to your business.
5. Improves Business Or Organization Quality
Website maintenance helps improve your organization's credibility.
6. Higher Conversion Rates
A well-maintained website has a direct impact on conversion rates. By regularly monitoring and improving elements such as page loading speed, mobile responsiveness, and user-friendly navigation, you can create a positive user experience that encourages visitors to take desired actions.
7. Access To Other Support Services
Website maintenance & support service includes timely updates, optimize website performance, security improvements, latest version updates, backup, latest trends, Magento troubleshooting service, having certified Magento developers on board, website monitoring, customization, etc.
There are a number of reasons why opting for a Magento Maintenance Support Plan is beneficial. Firstly, it ensures that your store remains updated and functional. This leads to increased sales, as customers can access the latest products and features. Secondly, a professional team will look after any potential issues or problems that may crop up. This means you can concentrate on serving your business instead of managing chronic issues. Optimize your loading speed, and check for broken links to prevent users from getting frustrated. Google loves well-optimized websites, so we work on SEO. Nothing is more important than your website's security. We will make your website safe and secure by regularly updating your software and security patches.
A MageAnts Magento Maintenance and Support Service is designed to help you keep your store running smoothly. By taking on regular maintenance tasks, your store will be kept up-to-date and running at its best. This means no added stress for you or your customers, and improved sales figures as a result.
Conclusion
"Magento Website Development Mangoge, Maintenance & Support Bhi Denge" – inspired by the never-ending trend and billboard jugalbandi between Blinkit & Zomato.
Implementing a Magento maintenance support plan offers numerous benefits for businesses using the platform. By ensuring regular updates and security patches, businesses can safeguard their website from potential vulnerabilities and cyber threats.
Additionally, the plan provides access to technical support and troubleshooting assistance, allowing businesses to quickly resolve any issues that may arise. This not only improves the overall performance and functionality of the website but also enhances the user experience, leading to increased customer satisfaction and retention. Furthermore, the maintenance support plan enables businesses to stay up to date with the latest features and advancements in the Magento platform, ensuring they can leverage new opportunities and stay ahead of their competitors.
Overall, investing in a Magento maintenance support plan is crucial for businesses looking to maximize the potential of their online store and achieve long-term success.