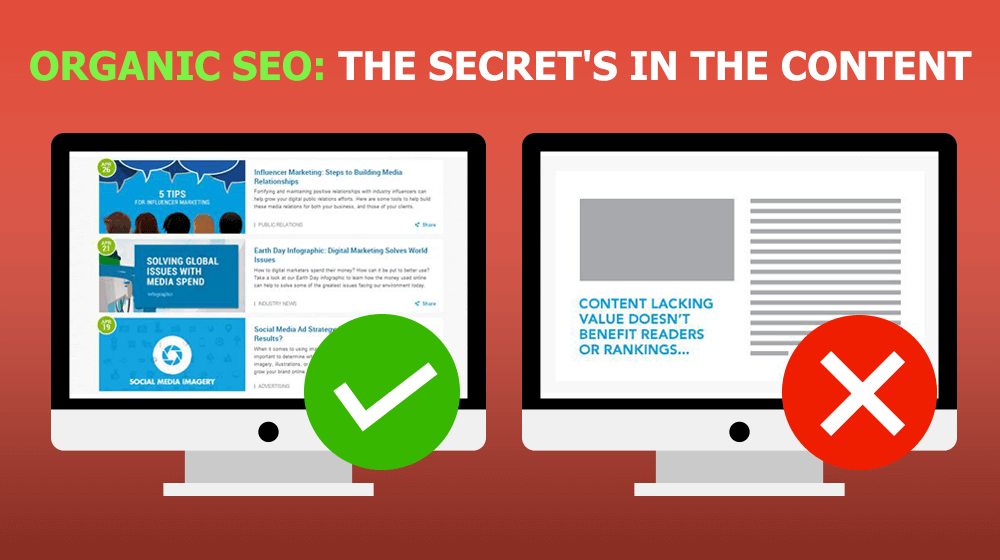 Organic search engine optimization popular as Organic SEO is a method which gets you the top position on the search engine result page without demand you to pay anything. Organic SEO is done for free. It is the natural placement on the organic search result page. Common methods of organic SEO involve backlinking, boosting keywords, writing high quality content. All these methods can help in improving the site's page rank.
Content Writing is the core part of SEO as it proves to be beneficial for the creating the presence of your business on the web. It is said that SEO can be effectively implemented through Content Marketing. Moreover, Content Marketing can be successful only if you apply the predetermined SEO techniques. So some or the other way SEO and Content is connected to each other.
Related blog:- Common SEO Mistakes You May Be Making
The best way to explain the connection between SEO and Content is as follows:
SEO makes demand specifies the requirements, whereas Content Marketing fulfils all those demands and requirements as stated.
SEO demands keywords. Content provides the keywords. Keywords are the most vital component of SEO which has a great impact on the ranking in the SERPs.
SEO demands content. Applying SEO without content is of no use. For effective results of SEO it is important to use words, articles, substance, keywords which are made possible only with the help of Content.
SEO demands backlinks which helps in linking to your site, Content provides it all. The best and the only way for SEO to have backlink are through quality content.
SEO demands consistency. Content through it variety in the content on constant basis helps SEO achieve that consistency. Effective SEO is the result of delivery of consistent content.
Certain tips to make your organic SEO effective with attractive content-
SEO is not only about keywords; focus on writing for human consumption. At times the keywords you use can affect your search engine ranking taking you off the top list.
Focus on Latent Semantic Indexing where the search engine focuses on understanding the relation between the terms and the words. Also TF-IDF focuses on the terms used on continuous basis by other competing pages. Use more of related nouns and synonyms and make sure to use primary keywords multiple times.
Focus on the Quality content and not the Quantity of the content. Make it more readable and understandable by using shorter sentences, accurate grammar and punctuation.
Avoid writing short content. Google is fighting for thin content, as it is not just short but also lacks in providing the right type of information to the readers. Focus on the size of the content and frame long form content of high quality.
Make your content seem to more practical to the readers. Includes statistics and quotations from credible sources. This will help Google to access the information provided accurately. Linking sources to your content will also improve your content's relevance score of targeting the keywords.