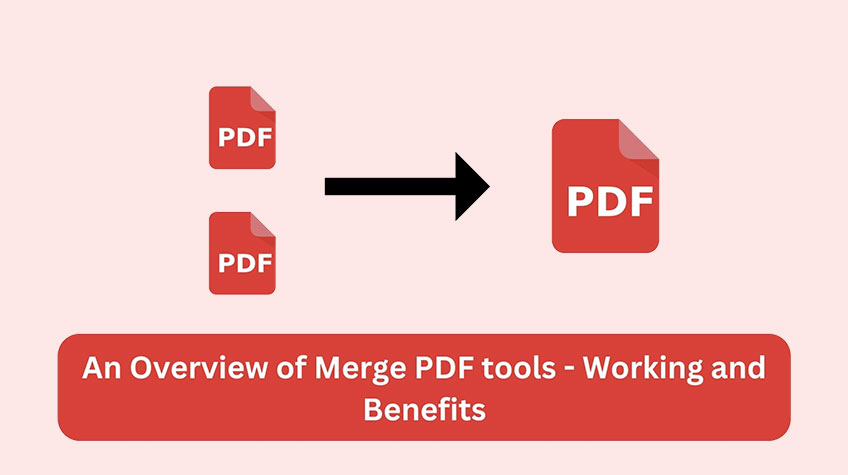 PDFs are often large and take up a lot of space, so it's important to merge them together into one file that you can then email or upload to your website.
When it comes to merging multiple PDFs, there are a number of ways you can go about it.
However, PDF merger tools can help you combine multiple files into one PDF. This is useful for many reasons.
What Is an Online Pdf Merger?
The online PDF merger is a tool that makes it possible to combine multiple PDFs within seconds.
It can help you merge your several files in one document, or you can say it can convert multiple files into a single PDF document – that is easy to manage, access, and share.
Due to the ability to merge any number of PDF documents into a single document, this helps you save time and space.
As a result, you only have to deal with one file instead of multiple ones.
How It Works
Before we get started with our review, let's take a look at what exactly a PDF merger tool is and how it works:
The tool is based on a simple mechanism to save you from the stress of finding the right option. The whole process is completed in three simple steps given below:
Step 1: First, you visit the website and start uploading PDF files that you want to unify using the online PDF Merger.
You can either upload them through drag and drop functionality or simply upload them from your computer/cloud storage services.
Step 2: Once the files are uploaded successfully, choose the specific order for them. You can skip this step if they already appear in the right sequence.
Step 3: Now click 'Merge Files' button to get a consolidated version of multiple documents.
Once converted into a single file, you can either download straight to your device or share with relevant persons through WhatsApp, Email, or a direct link.
5 Reasons to Merge Pdf Files
Below are the reasons to merge PDF files.
1. Reduce The Size of Your File
If you have a large number of documents, the best way to reduce their size is by combining them into one document.
When you do this, all of the information from each file will be included in that single document.
This also means that if you need to make any changes to any part of the original document, you can do so without having to worry about changing individual files or having them uploaded separately again.
An important reason to use the merge function is to reduce the size of your PDFs. This might be useful if you have many pages and want to reduce their size by merging them together.
2. Combine Different Versions
Sometimes you may have several versions of a document that need to be merged into one final version before it can be published online or sent out for printing purposes.
For example, if you have a web page for your company website and one for your business card design and marketing materials.
But you want them all printed together on one piece of paper at once, then creating a unified PDF from each version would be ideal.
It could be difficult for you to manage multiple versions of documents. Having a single big file can help you save time and effort.
You do not have to go to every single version and make necessary changes when there are adjustments needed.
3. Save Storage Space
Another reason is that it can save a lot of storage space on your computer. If you have a large number of PDF files.
Then they are likely to occupy your device's internal storage and make your device work slower than its normal pace.
If you really want to save storage space and avoid seeing too many low-storage warnings, then combining multiple files can work.
You just have to merge several PDFs and then compress that resulting output to save yourself some extra space.
4. Make It Easier to Find a Specific File
One of the most important reasons to unify multiple PDF files is that you do not have to face difficulties while finding the correct file.
You do not have to go through different folders while looking for the correct document. One single document is always easier to manage and access than several different ones.
You can convert files into a single doc in the right folder. That's how you can easily find the files you need by sorting the files' names or using filters on the folder view.
Related Post: Best Free Pdf Splitter Tools
5. Reduce The Risk of Losing Important Information
Merging multiple PDF files with multiple versions of the same document helps reduce the risk of losing important information if any version is accidentally deleted or lost due to other reasons.
You have everything in a single centralized document that should always be easier to access. If you have more than a few files, chances are that you will fail finding them at the time of need.
Having one merged document ensures that you never lose your critical information.
6. Allow for Quick Editing Changes
One more reason is that merging multiple PDF files allows for quick editing changes such as adding new pages, changing page layouts, adding headers/footers, etc., without having to make multiple copies of each page and then manually insert them into their respective places in each file.
This saves time when compared with making multiple copies of each page and then inserting them into it.
7. Speed Up Loading Times
In some cases, it may be necessary to combine two or more PDF files into one or two smaller ones in order to speed up loading times on mobile devices and laptops.
You could also do this if you want to make sure that your PDFs are compatible with certain browsers or devices such as computers, iPads or iPhones.
Conclusion
Combining multiple PDFs into a single file can help you in many ways. However, you need an online PDF merger tool that will allow you to do this kind of work easily.
There are many different types of online PDF merger tools available on the market today, and choosing one can be difficult at first glance.
A trustworthy PDF merger helps you get things done flawlessly without any waste of time and effort.