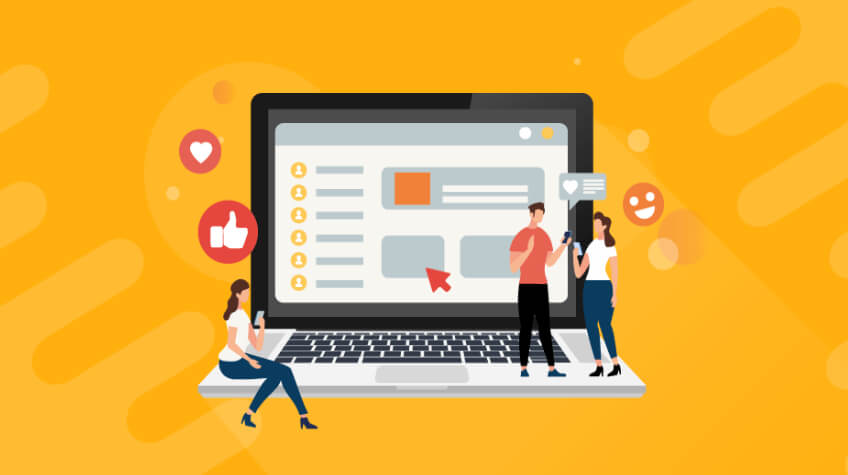 Recent years have seen a significant shift in the way internet users communicate information, which has had a significant positive impact on the socializing and interaction of people all over the world, particularly in developing countries. Communication has been much enhanced as a result of this.
WordPress has a plethora of different social networking plugins, and selecting the most appropriate one might be time-consuming due to a large number of options available.
To get the best, it should possess attributes like satisfying the user performance by meeting their needs; the speed of the plugin should be very high to ensure it does not slow down the system due to loading additional features like style sheets and scripts. If the plugin is slow, it reduces the system's performance, and users may lack satisfaction.
You should also double-check the social media network that will be shown more prominently on your website's homepage.
Here is a list of the finest WordPress plugins you should consider using to optimize the performance of your website.
Table of Contents
1. The Monarch Plugin
At number one, we have the Monarch Plugin. It is a prominent social networking plugin that is user-friendly (has no hassles when used, and its documentation provides clear instructions for easy operation). It was published by Elegant Themes in 2014 and has quickly gained popularity in the market since then, attracting a large number of users.
It integrates social media via sidebars, inline buttons, pop ups, and flying boxes, making it the greatest social media plugin for WordPress.
The Monarch Plugin is supported by over 20 social networking sites and offers additional customization options. It is designed primarily to garner a large number of shares and followers on social media platforms such as Facebook, where users are encouraged to share and easy sharing mechanisms are enabled.
Key Features of the Monarch Plugin
Triggers for pop-ups and fly-ins
Comprehensive sharing analytics
Extensive customization capabilities
Large community and ticket based support
Comprehensive documentation
2. Social Snap
Social snap is, without a doubt, one of the best-looking loading WordPress plugins. It enables you to govern how people share and evaluate your material, hence decreasing site congestion.
It offers you lightning-fast loading speed, which helps minimize traffic. Aside from that, it is extremely easy to use, with over 30 social networking networks and apps to pick from, making it the most popular.
This plugin allows for the placement of share buttons in practically any area of your site, including inline buttons, floating sidebars, sharing bars, and sticky bars. It comes in both free and paid versions, allowing for customization.
Social snap offers a free version that does not require a pay-per-use internet connection and a pro version that is always purchased and enables the user to employ a variety of methods to enhance website congestion. So, you can select any one of two alternatives fitting your needs and requirements.
Key Features of Social Snap
Minimal share count rule
Integrated statistics & analytics
Unlimited network button
Simple to use
Widget for the most popular posts
3. Social Share and Locker Pro
This is the most secure plugin available, having been published in 2014 and continuously upgraded since then.
It provides users with several customizable choices and a high level of security since content can be locked until the visitor shares the page, and it supports 44 social networks with a large number of social media followers.
Thirteen standard theme templates are provided, ten of which are optimized for sharing and three of which are optimized for mobile users. Sharing buttons are shown in the form of floating bars, slide-in boxes, images, or within the content. The sharing bars display the total number of shares and can also be used to track page visitors.
Consider this one of the top plugins, thanks to its exceptional and simple-to-use features.
Key Features of Social share and locker pro
Pre-Defined Social Share Themes
Display Full Name & Counters along with Icons
Email Sharing Option
Hide content from unregistered online users
Multiple display options
4. Smash balloon Instagram Feed Plugin
It is one of the most popular and widely used plugins, and it is also one of the most adjustable. It offers several feed layouts to choose from, including:
Hashtag feeds
Instagram stories
Shoppable feeds
This plugin has more than 1 million websites making it the most popular. You can display your content however you want using Smash Balloon. It allows you to customize your Instagram feeds to make them look exactly the way you want. It blends seamlessly into your site or pops out at your visitors!
Moreover, Smash Balloon keeps your site looking fresh. It automatically pushes your new Instagram content straight to your site to keep it looking fresh and keeping your audience engaged.
The ability to aggregate material from multiple Instagram accounts into a single feed makes it one of the best social media plugins for WordPress.
Due to regular updates, the plugins remain compatible with the latest Instagram changes, simplifying usage.
Key Features of Smash Balloon
Completely customizable
Easy to set up
Increases social engagement
Keep your site look fresh at all times
Offers amazing customer support
5. Ultimate Social Media Icons
It displays social media sharing buttons through the use of icons that are pictorial representations of various items, which makes it simple to use.
Additionally, it makes use of the third-party supplier SpecificFeeds.com for the subscription feature, which enables users to subscribe to your site and receive new postings through email automatically.
Immediately upon plugin installation, a feed is created on Specific Feeds, which transmits your IP address, which is essential for this feature to function.
This plugin is available for free and for payment. The free version comes with only the most basic capabilities are available, while purchasing the pro version unlocks a slew of other features necessary for the site to function properly.
The free version of Ultimate social media icons includes features such as a Facebook share icon, a Twitter share icon, an email share icon, an RSS share icon, and an Instagram share icon.
While the subscription plugin includes additional features such as social share buttons and other design styles sheets to increase the readability of your social share symbols.
Key Features of Ultimate Social Media Icons
Easy to use
Icons for more than 100 platforms
Speeds up your site
Customizable options
Amazing customer support
6. Easy social share buttons
It is one of the most popular social media plugins for WordPress, published in 2013 and continuously enhanced since then. Easy Social Share Buttons is the most complete and flexible social sharing WordPress plugin available.
You'll give your website visitors a simple and effective way to interact and share content directly from your website to their social network channels.
With this plugin, you can quickly increase your followers, boost your social shares, multiply your subscriptions, add social live chat functionality, and display your social following totals. Additionally, it lets you have access to comprehensive analytics and world-class mobile assistance.
Key features of Easy social share buttons
Compatible with over 50 social media platforms
Features unlimited stunning design options, including over 30 automated display methods
Unlimited color and style options
Easy to use
Detailed customization of share buttons for any location and share optimization tags
Also See: 10 Best WordPress Plugins for Online Courses in 2023
7. Smash balloon Facebook Feed Plugin
This is one of the greatest and most popular social networking plugins for WordPress and is now being utilized by over 200,000 websites to allow seamless integration of Facebook material into WordPress websites, among other things.
Apart from displaying Facebook page information, photographs, albums, and even events, smash balloon includes additional functionality such as displaying live videos, filtering posts by word or even hashtag, and aggregating the contents of several Facebook accounts into a single feed.
Additionally, it offers an easy-to-use custom feed builder to configure all Facebook feeds. It allows the filtering of posts and the display of user comments and reactions, which makes it a user-friendly plugin. Also, all pages are cached.
This plugin has been regarded as the most popular due to its user satisfaction.
Key Features of Smash balloon Facebook Feed Plugin
Wizard for feed creation
Lets you customize your feed.
Prevents downtime
Optimizes speed
SEO optimizer
8. Raffle Press
Raffle press is the most powerful social media plugin for WordPress. It is considered the best for growing websites, reducing traffic, and assisting people through viral giveaways and contests.
Additionally, it has critical features that every website requires, such as dragging and dropping an icon from one location to another, a lightning-fast fraud protection tool that minimizes fraud at all times, social media integration platforms, and tracking and reporting.
Raffle Press has giveaway activities that are mostly used to accomplish the following:
To increase the number of video viewers
To increase the number of Instagram followers
To increase the number of Twitter followers who visit the website
To be the most liked on Facebook
To increase the number of blog comments
Additionally, it integrates perfectly with social media platforms such as Facebook, Instagram, Twitter, and YouTube, the finest social media platforms.
Raffle Press comes in several versions, from free to premium. The free version has limited functionality, whereas the paid version includes all functions that you can utilize to optimize your website.
Also See: 36 Essential WordPress Security Checklist in 2022 [Tips and Guide]
Key Features of Raffle Press
Simple giveaways that do not require coding
Templates for goal-oriented giveaways
Expand your email list easily
Contributes to the growth of your social media followers
Word of mouth marketing made simple
9. AIO SEO (All in one SEO)
AIO SEO is one of the most outstanding social media plugins for WordPress. Over 3,000,000 websites use it. This plugin assists in optimizing WordPress sites for SEO and also in setting custom thumbnails for social media platforms such as Facebook.
This plugin allows you to have a complete social preview of all pages and posts in the WordPress block editor so that you can easily control how your content will appear on social media platforms, which is typically a source of satisfaction.
Additionally, AIO SEO lets you configure Twitter cards for WordPress, which enables you to receive rich snippets on Twitter. This plugin may enter social media ownership verification codes to ensure security when claiming ownership of a page and allow users to register social accounts for their websites and writers for Google's SEO knowledge panels, which aids in ranking boosts.
Key Features of AIO SEO (All in one SEO)
Rich snippets schema
Lets you have complete social media control
Offers video sitemap generator
Lets you to create a WordPress XML sitemap and alert all search engines
Google news sitemaps
10. Shared Counts
Shared counts is one of the best social media plugins available for WordPress. It gets you a social count for each network, as the name says.
There is an increase in traffic and engagement in this type of plugin and helping readers share posts and pages with their friends due to sharing buttons. These buttons include the print button, Twitter twit button, email sharing Yummly pin button, Pinterest pin button, and LinkedIn share button, which has excellent features.
It is considered best for large websites which get tens of millions of page views each month because all shared counts can be retrieved in a single request. The shared count is a built-to-be developer-friendly kind of plugin. Also, extensive documentation makes usage easier since one will refer to the documentation when installing the plugin.
Key Features of Shared Counts
Present social sharing buttons in a variety of designs
Easy to retrieve counts from Facebook, Twitter, Pinterest, etc.
Maintain non-https share counts
Lets users effortlessly discover the most popular content on your site
Maintain your site's performance with few assets and intelligent caching
11. Novashare
Novashare is one of the most popular Word Press sharing plugins. It allows you to add sharing buttons to your site without slowing it down or impairing the user experience, which is the finest function a plugin should have.
Additionally, it permits the integration of all major social networks, making it simple to add share buttons for media such as Facebook, Twitter, and Telegram, which are frequently used by several social groups.
Also, it includes critical functionality such as the following:
The option to add UTM tracking to social media links; and
The ability to display follow buttons in your sidebar or footer.
The ability to incorporate a floating social media bar into WordPress postings.
Adding hover pins to Pinterest images
Novashare plugins provide simple-to-use settings when navigating between sites, making them user-friendly for its users. It provides options for displaying share counts, setting button colors, and even selecting breakpoints for the placement of buttons on mobile devices.
Key Features of Novashare
Easy to set up
Easy user interface
Can be used on all devices
Enable inline share buttons.
Fast and lightweight social media plugin for WordPress
12. Revive Social
Lastly, we have the Revive Social plugin. It is one of the finest social media plugins for marketing automation. It enables you to distribute your WordPress content automatically on the social network.
You can automate the frequency with which you want your old (and new) material to be shared and save money on expensive social media management software. You can share content from any RSS feed on Facebook, Twitter, LinkedIn, and Tumblr without any hassle.
It lets you share content on your social media accounts quickly and easily. Moreover, the subscription version allows you to specify the number of hours between posts, which is ideal if you're sharing a lot of archived information.
Additionally, you can choose to opt out of some posts showing in your feeds and on social media.
Key Features of Revive Social
Saves time
It helps you have increase users
Easy user interface
Easy to set up
Lets you optimize your website performance
Also See: Why do Businesses Develop Their Websites on WordPress?
Wrapping it up…
So, these are the top 12 social media plugins for WordPress that you can utilize to optimize your site's performance.
When opting for the best social media plugin, make sure to have a balance between the features and the performance of your WordPress-based website.
Adding too many social networking plugins with many features can cause your website to load slowly and negatively impact user experience, which is not wise. So, it's better to determine which social media sites will be featured prominently on your website's homepage.
Remember that adding fewer options can help you decrease clutter and provide a better user experience for your customers.
So, make the best decision by choosing the ones that fit your needs the best ☺!!