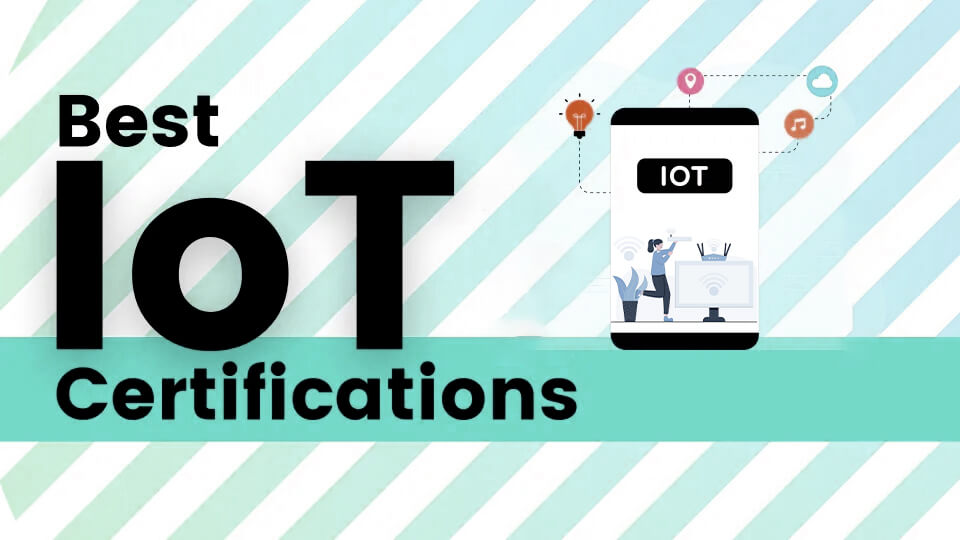 The Internet of Things (IoT) is a rapidly growing market that includes everything from smart fridges to smart cars. Online certifications are recommended if you're interested in this field. If you're looking to start or boost your career in the field of the Internet of Things (IoT), then you should consider getting certified. There are many different IoT certifications available, and each one can help you differently. We'll explore some of the top IoT certifications to help you boost your career in this blog post.
Here are some of the best options:
1.

CompTIA A+
CompTIA A+ is a vendor-neutral certification that demonstrates foundational competency in computer technology, with a focus on installation, preventative maintenance, and basic networking.
The CompTIA A+ certification covers the fundamentals of computer technology including hardware components (the motherboard is an example), operating systems (such as Windows), and software applications. The certification also covers security best practices for IT professionals who work with computers or networks in an enterprise environment.
2.
Intel® IoT Solutions Certification
The Intel® IoT Solutions Certification is a great way to get your foot in the door in the IoT space and land some jobs with big companies. Reasons for this include:

There are no complicated steps to earning it. You don't need any prior experience or knowledge of software development, so you can start working on this certification right away!
As a result, you are more likely to stand out from other applicants who are also interested in getting certified. Having an official certification will give consumers confidence that you know what you're doing when it comes to developing software solutions for their devices, especially since many people think that if they aren't using Microsoft Office they aren't qualified enough as programmers (which isn't always true).
It opens up opportunities for advanced positions within larger organizations like Google, Amazon, or even Apple! If someone sees your certification then chances are good that they'll want to hire you because there aren't many other candidates who have these kinds of credentials either inside or outside their organization.
RELATED: The Role of IoT and AI in Enabling Smart Mobility Solutions
3.

AWS Certified Internet of Things (IoT) – Specialty
If you're looking to get ahead in your career in the field of the internet of things, one of the best certifications you can get is the Amazon Web Services (AWS) Certified Solutions Architect – Associate. The goal of this certification is to demonstrate to prospective employers that you are competent in designing, building, and deploying applications on the AWS platform. As well as staying current with AWS attributes and the finest techniques, it's a great way to stay in the know.
Specialty certification is for IT professionals who want to develop skills in cloud-based IoT solutions. This certification is also ideal for developers who are looking to build and manage applications for the Industrial Internet, as well as those who want to develop new test methods and methodologies for IoT deployments.
Specialty certification provides you with the knowledge base needed by technical leaders at all levels of an organization. This includes senior managers who are responsible for defining their company's strategy around IoT technologies, but also junior staff members tasked with installing devices or creating software applications that connect those devices into systems capable of responding intelligently based on their environment or user actions within them.
4.

LPIC-1 Linux Professional Institute Linux Administrator
The Linux Professional Institute (LPIC) is a non-profit organization that offers vendor-neutral certifications. The LPIC-1 certification is the first of its kind, and it covers basic administration skills in Linux. This certification can help you gain experience as an IT professional or even land your first job at a company that uses Linux.
The LPIC-1 exam tests your knowledge of shell scripting, system utilities, and networking with Linux distributions like Ubuntu and CentOS. A number of virtualization technologies are also covered in this course, including KVM/XENIX, storage area networks (SANs), and networked storage systems. It also discusses cloud computing, cloud security best practices, troubleshooting tools for virtual machines, and remote access solutions such as VPNs and SSH keys, so if you are interested in working with these platforms then this might be worth checking out!
5.

Cisco CCNA Routing and Switching
Cisco CCNA Routing and Switching is a vendor-neutral certification that validates the skills required to manage, maintain and troubleshoot small to medium-sized networks. This course covers topics such as LAN switching fundamentals, Internetworking with Cisco routers, IP addressing schemes and subnetting; IPv4 addressing schemes; IPv6 addressing schemes; RIP routing protocols (RIPv1/2); EIGRP routing protocol for LANs with multiple autonomous systems using EIGRP for IPv4 unicast routing over an AS boundary router interface or a serial interface (ISL).
6.

Oracle Java SE 8 Programmer I
Java is a general-purpose programming language that can be used to develop applications for desktop, server, and mobile platforms.
Oracle acquired Sun Microsystems in 2010, and since then they have been working on improving the language so it will work better on both their hardware as well as their software products like Oracle Database or Fusion Middleware.
Oracle Java SE 8 Programmer I certification will prepare you for positions where you need expertise with Java but are not necessarily required to know how to program in it directly yourself; instead, your job might involve writing code that interacts with other systems through APIs (Application Programming Interfaces).
7.

Microsoft Technology Associate (MTA)
If you're looking to get started in the world of technology, Microsoft MTA certification is an excellent choice. It's a great way to learn more about the Microsoft stack and cloud technology, which are critical components of today's businesses.
The Microsoft Technology Associate (MTA) program has been around since 2003 and it continues to grow as more people become interested in learning how they can use their skillset in the workplace. The MTA certification is available through several training companies including Udemy and PluralSight; there are also online options available if you don't want or need classroom instruction
8.

CompTIA Network+
CompTIA Network is one of the top IoT certifications to help you boost your career. This certification validates your knowledge and skills in network administration and design. The CompTIA Network certification is also a great stepping stone for other more advanced networking certifications. It's a great starting point for anyone who wants to expand their knowledge in this field and become more marketable.
The test contains 100 questions, which means you'll need at least two hours to complete it. You'll have access to a practice exam after taking the real thing, so don't worry if you didn't get everything right on your first go!
9.

CompTIA Security+
CompTIA Security+ is an international, vendor-neutral certification that establishes foundation-level knowledge of network security and risk management, compliance, and operational security.
The exam tests your ability to identify threats within a network environment, mitigate risks and assess vulnerabilities in IT systems. It covers topics such as:
Identifying threats against networks
Implementing controls to protect data integrity (e.g., encryption)
Maintaining policies/practices related to cybersecurity
10.

Google Certified Associate Cloud Engineer
There are many different types of certifications that you can get to boost your career in the field of the Internet of Things (IoT). However, one specific certification that is becoming increasingly popular and well-respected is the Google Certified Associate Cloud Engineer. This certification demonstrates your ability to use Google Cloud Platform tools and technologies to build, test, and deploy applications on the Google Cloud.
You will then be able to proceed to the Google Certified Associate Cloud Engineer exam and after passing this exam, you'll be tested on your ability to design, develop, manage, and secure applications on the Google Cloud.
If you are looking to boost your career in IoT, then obtaining the Google Certified Associate Cloud Engineer certification is a great way to do so.
➤ Getting certifications can assist you in securing jobs and advancing your career.
Obtaining a certification can help you acquire a job, grow your career, and raise your salary in the field of information technology (IT).
Certifications don't just help people get jobs; they also make them more competitive, which means that companies will be more willing to hire them over others with less experience or training under their belt. Some studies show that employers prefer candidates who have completed certifications over those without any formal training whatsoever!
Conclusion
There are many IoT certifications available to help you boost your career. There is, however, a difference between them all. The best way to choose a certification is to first identify your goals and then find a certification that will help you achieve those goals. The options available ensure that you'll find one that's right for you.
Career advancement and job placement can be aided by certifications. It's no secret that the Internet of Things is on the rise—and with it, a lot of new opportunities for businesses and IT professionals alike. If you want to get ahead in this exciting field, then make sure that your skills are up-to-date is key. That's why today we're here with some great news: we've compiled a list of 10 Top Internet of Things (IoT) Certifications to boost your career and to build experience in this area in no time!