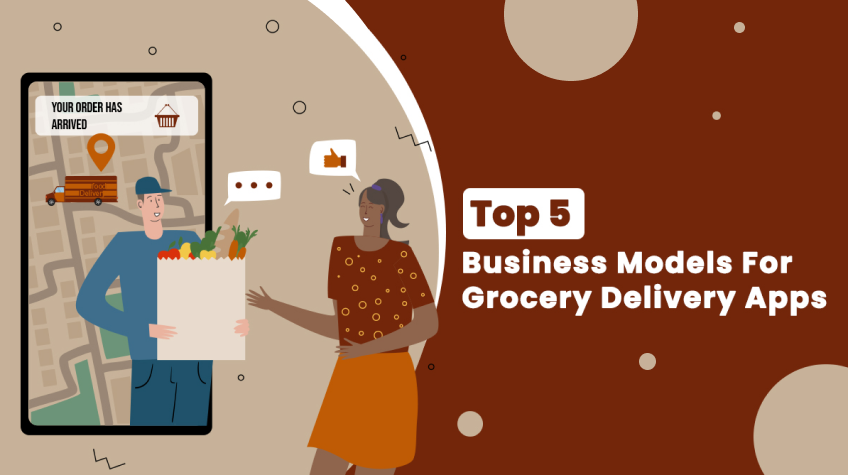 The online grocery market is booming. All business models have heard of some kind of grocery delivery app services, and even some older ones. However, the industry has exploded over the past few years with technological advancement and changing preferences. By 2027, it's expected to reach over $740 billion.
It's easy to see why people prefer ordering groceries online; a few taps on a phone screen will show you all the food you might want or need. With another tap, you can order and schedule when you want them to deliver everything.
The growing demand for grocery delivery has given rise to several innovative business models that aim to capture market share. Though it's still a competitive space, opportunities abound for companies that can differentiate themselves by providing value to consumers through their offerings and operations.
5 most promising business models for grocery delivery app in the years ahead:
1. The traditional marketplace
This model most closely resembles traditional in-store grocery shopping. Customers visiting the app or website browse and select various grocery items from multiple departments like produce, dairy, packaged goods, frozen foods, etc.
Orders are picked and fulfilled directly from the grocer's store inventory. Some apps may source items from multiple stores for more selection. Profits mainly come from markups on the groceries sold.
Examples: Instacart, Walmart Grocery
Pros
Massive product selection. It can offer all typical grocery categories and brands.
Established grocers can leverage existing infrastructure and supply chains.
Higher order values are given large basket sizes.
Cons
Need help to provide consistently fast fulfillment and delivery during peaks.
Lower margins than other models.
Requires significant investments in technology, labor, and logistics.
Best for: Established grocers with existing store networks. The marketplace model allows them to enable delivery capabilities while maintaining their current operations quickly.
Also See: Trending Mac Apps you should be using
2. Local warehouses
Rather than fulfill orders from retail stores, apps using this model ship from local warehouses specifically designed for online grocery operations. They stock a curated selection of products most commonly purchased online.
The local warehouse model improves inventory availability for online orders. It also enables faster picking, packing, and delivery since the warehouse is optimized for e-commerce fulfillment vs. in-store shopping needs.
Examples: Amazon Fresh, GoPuff
Pros
More consistent fulfillment times and accuracy.
Wider delivery windows for customers.
Lower operational costs by eliminating in-store picking.
Cons
Limited selection compared to traditional supermarkets.
High fixed costs for real estate and warehousing.
Need density of demand to justify local warehousing in each market.
Best for: Newer startups focusing exclusively on grocery delivery. Local warehouses allow them to control a more optimized e-commerce operation.
3. Dark stores
Dark stores fall between the traditional retail model and the local warehouse model. They operate physical grocery stores but close them to the public to exclusively fulfill online orders.
Since customers don't physically shop there, dark stores can configure layouts and inventory for online fulfillment efficiency. This also prevents stock-outs and other challenges when picking for both in-store and online customers.
Examples: Caper, Fridge No More
Pros
More product selection than a warehouse model.
Lower operational costs than leveraging existing stores.
Store layouts and processes tailored for online order preparation.
Cons
Higher fixed costs than virtual warehouses.
Offerings are more limited than a full-service grocery store.
Conversion costs to transition traditional stores.
Best for: Newer startups who want the benefits of a physical footprint optimized for online grocery without operating traditional stores. Also, a transition option for grocers shifting existing stores to e-commerce only.
4. Virtual warehouse
The virtual warehouse model relies solely on a digital inventory. No physical warehouse or dark store exists. Instead, they form relationships with distributors, wholesalers, local stores, and other sources to fulfill orders.
Advanced algorithms and inventory management software integrate with the supply chain to source products as needed. The virtual approach allows for a highly scalable model without the high fixed costs of operating physical facilities.
Examples: Weee!, Dumpling
Pros
Near endless selection by aggregating products from many sources.
Asset-light. No physical warehouses are required.
Highly scalable to new markets.
Cons
Less control over fulfillment operations. Relies on third-party relationships.
Last-mile delivery still needs to be managed or outsourced.
Less visibility on product availability. Inventory is managed digitally across suppliers.
Best for: Startups focused on technology and product sourcing innovations vs. physical supply chain advantages. Virtual warehouses are extremely scalable to expand coverage.
5. Inventory-less merchants
Inventory-less merchants don't stock or fulfill orders directly. They act as an intermediary between customers and retailers. You browse and order products they source from partner grocers and other stores.
The model focuses on customer experience, relationships, and technology platforms. They don't physically handle any inventory or fulfillment operations.
Examples: Instacart (non-grocery orders), Uber Eats
Pros
Asset-light. No inventory or fulfillment infrastructure.
Purely focuses on technology, branding, and customer acquisition.
Highly scalable. Can expand to new markets easily.
Cons
Less control over fulfillment. Dependent on retail partners.
Narrower margins than inventory-holding models.
Could face partner competition long-term.
Best for: Startups focused on developing technology and customer experience capabilities before expanding into fulfillment. It is also an option for companies with partnerships across many retailers.
Evaluating the models
Determining the right business model depends heavily on your company's specific situation and objectives.
For new startups, asset-light models allow focusing on core competencies first before scaling operations. Virtual warehouses and inventory-less merchants enable expanding coverage rapidly.
On the other hand, companies who want more control over operations may prefer a local warehouse or dark store model. The increased fixed costs offer greater influence over fulfillment and service levels.
Traditional marketplaces work best for established grocers who already have the retail infrastructure, supply chains, and branding. Enabling delivery is more plug-and-play vs. restarting operations under a different model.
Hybrid approaches are also an option. Many grocery delivery apps are starting inventory-less and expanding into warehouses over time. This allows for validating the customer experience before investing in fulfillment.
Companies also elect different models for parts of their product inventory. Perishables may ship from dark stores, while non-perishables come from warehouses.
There's an upside to maintaining flexibility as the landscape evolves – what works today may be short-term. But speedy or quick service is becoming a key differentiator as grocery delivery apps aim to provide more convenience. Hence, one way out is to have a 10-minute grocery delivery app development, but make sure that you have the best supply chains and operations. Contact an app development company to build a grocery app that provides the best experience to your customers with the quickest services possible.
Key factors for long-term success
While the business model provides the framework, excelling at operations and execution determines market leadership. Here are 4 factors that ultimately drive sustained growth and loyalty:
➤ Providing a compelling value proposition
Consumers select grocery delivery at its core because it solves pain points in traditional shopping. The convenience of on-demand delivery and time savings outweigh the costs for many.
But to become a habit, apps must deliver unique value beyond convenience alone. Consider different consumer segments and how to tailor benefits – busy parents may value different offerings than senior citizens.
Value can also come from selection (local, organic items), affordability (discounts, exclusive deals), and ease of use (frictionless checkout) among endless possibilities. Continue iterating the experience around your ideal customer.
➤ Building superior operational capabilities
The logistical challenges of delivery at scale can't be overstated – it's ultimately why so many companies fail. Mastering fulfillment requires expertise across:
Efficient routing and batching algorithms to maximize delivery density.
Inventory and warehouse management to provide consistent availability.
Picking and packing processes to maintain order accuracy and quality.
Refined delivery operations with driver management and support.
Building these competencies takes significant time and investment. However, operationally-intensive models can also create barriers to entry once an advantage is gained.
➤ Leveraging data to optimize and innovate
Grocery delivery apps live and die based on data. With so many supply chain variables, leveraging insights to optimize is critical.
Apps should constantly track metrics on:
Customer preferences and behaviors to tailor offerings.
Delivery routes, volumes, and density to reduce costs.
Real-time inventory status across regions to prevent stockouts.
Fulfillment and last mile performance to improve speed.
Mastering analytics also allows testing innovations like dynamic pricing, personalized promotions, automated warehouses, etc., before competitors.
➤ Cultivating brand loyalty
Grocery delivery is a prime example of an industry where habitual customer behavior is essential to profitability. The fixed costs of fulfillment and marketing necessitate strong retention and loyalty over the long term.
Building a brand customers identify with and come back to starts with consistent execution day after day. But it also requires forging an emotional connection through shared values, community building, and more.
Differentiation comes from articulating what your company uniquely stands for and communicating that at every touchpoint. Consumers are likelier to become highly engaged, loyal advocates when they align with the brand ethos.
Final thoughts
Grocery delivery still has huge room for reinvention as consumer behaviors shift. While the coming years will see fierce competition, opportunities abound for fresh concepts that creatively serve evolving needs. Companies addressing pain points with an obsession for operations and customer experience will ultimately win.