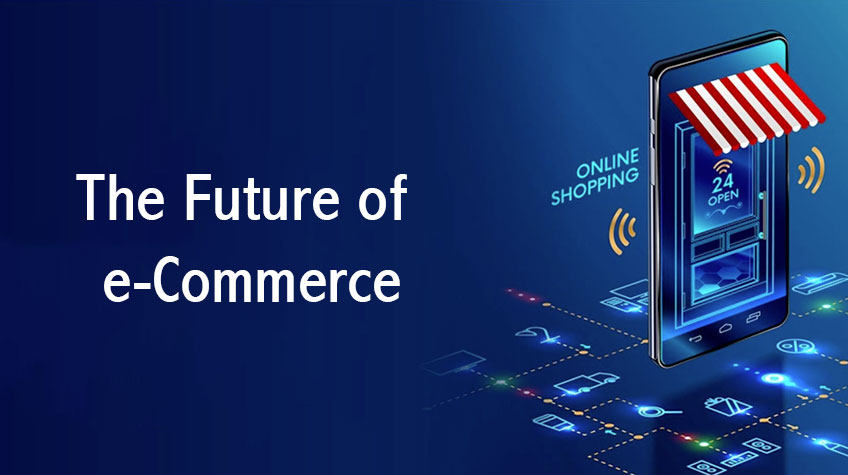 The term e-Commerce, often known as easy commerce or electric commerce, has gained immense popularity over the past few decades. The level of ease it provides businesses to operate digitally is unmatched.
Table of Contents
What is e-commerce, and how has it impacted businesses?
E-commerce is basically a service that facilitates the purchasing and selling of commodities and gadgets over the internet. In a nutshell, the commercial exchange of goods and services via the use of electronic money transactions and data transmissions that take place over the internet is known as e-commerce.
The most popular e-commerce platforms include Amazon, eBay, Flipkart, Myntra, and so on. So basically, any business that operates online is an e-commerce business. These Business transactions typically occur between:
1. Businesses to business (B2B).
2. Businesses to consumers (B2C)
3. Businesses to governments (B2G)
4. Consumers to consumers (C2C)
Government to Consumer (G2C) and Government to Business (G2B) communications are used interchangeably at times (G2B).
1. B2B (Business to business)
Business-to-business e-commerce is as simple to comprehend as the phrase itself. When a business sells its products to other companies it is known as Business-to-business e-commerce. We can summarize by saying that business-to-business transactions are transactions between two firms and that consumers play no role in these transactions. This kind of business transaction takes place in the automobile industry.
Example of B2B e-commerce: the engines for Maruti Suzuki and Tata automobiles are supplied by FIAT.
2. B2C (Businesses to consumers)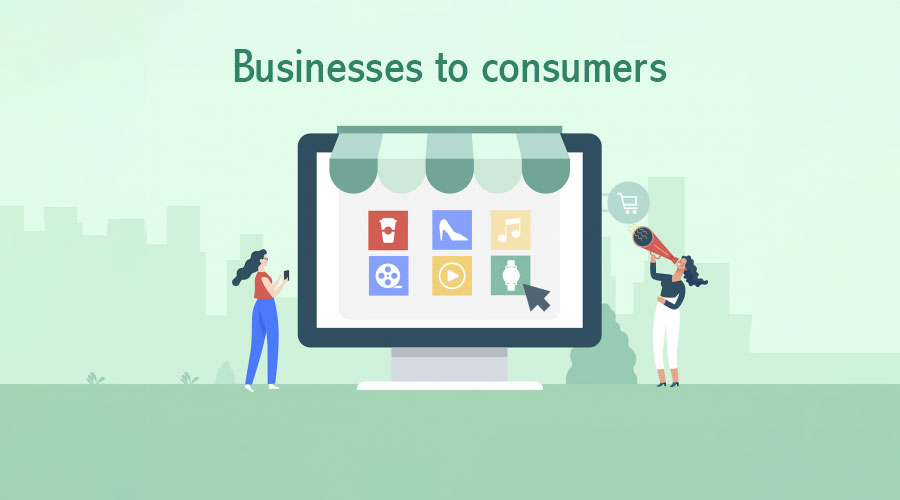 Business-to-consumer e-commerce refers to the practice of selling goods and services directly to consumers without the need of a middleman or other intermediary. In this situation, direct trade occurs between a corporation or manufacturer and a customer.
Business-to-consumer e-commerce gives consumers around the world the privilege to buy anything from anywhere at the comfort of their location. This implies that in B2C, clients can purchase products from any place in the world at any time of day or night by simply accessing online websites. Customers can simply purchase multiple goods at a time through various reputable websites or applications, ranging from groceries to apparel to household utilities, and so on.
In B2C, consumers have the option to exchange or return the item without having to pay anything extra. This lets them have a great shopping experience, and businesses are highly likely to get repeat business.
Unlike brick-and-mortar setups, e-commerce businesses are inexpensive. They have too little operating cost as they don't need to have specific physical setups to deal with customers. Most e-commerce business owners operate from their homes only.
Some of the most popular B2C websites include, Nykaa, Meshoo, Amazon, Meta (Facebook), Wal-Mart, etc., are all online retailers.
3. B2G (Businesses to governments)
Businesses to government e-commerce simply refers to the business format where firms sell their commodities, items, and services to the government. Directly or indirectly, it is a form of sales model in which corporations contribute to government projects by offering their products or by filling tenders or making their advertisements more accessible. The government then evaluates and selects the greatest companies for its projects. Businesses that pay taxes, file reports, or sell goods to government agencies might also be included in this category.
Some of the most popular examples of B2G include Bharat Dynamics, EY engagement with DIPA to ensure that Digital Infrastructure is properly implemented, and so forth.
4. C2C (Consumers to consumers)
When people purchase and sell things through online classified advertisements, discussion forums, and marketplaces, all of which are free is called consumer-to-consumer e-commerce. The act of buying and selling second-hand items is also included in consumer to consumer e-commerce.
Craigslist, eBay, OLX, Quickr, and Etsy are just a few examples of this.
The History of E-commerce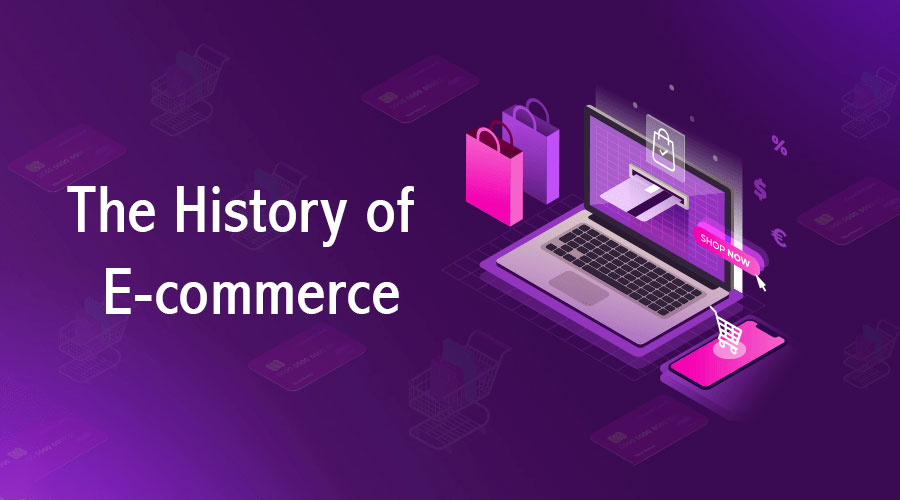 In the 1960s, the first electronic data interchange (EDI), also known as "e-commerce" (VANs), was deployed on value-added networks in the 1960s. The 1990s and early 2000s was the phase of evolution for the e-commerce industry. This industry started to evolve as internet connections became more widely available and renowned online vendors started to emerge. In 1995, American entrepreneur Jeff Bezos started a book-shipping business out of his garage and named it Amazon. And just after two years, in 1997, eBay came into existence, which allowed users to sell to one another online. All this resulted in a meteoric rise in the popularity of e-commerce businesses.
Like any digital technology or consumer-based purchasing industry, electronic commerce has evolved over time. As mobile devices have grown in popularity, mobile commerce has emerged as a distinct business in its own. The emergence of social media handles, such as Facebook, Instagram, Twitter, Pinterest, etc., has also played a significant role in the popularity of e-commerce businesses. According to research, Facebook was responsible for 85 percent of social media-originating sales on the e-commerce platform Shopify in 2014. According to one of the studies, the e-commerce market is expected to account for 17 percent of total retail sales in the United States by 2022. Another study reveals that the Indian e-commerce market is expected to increase by 21.5 percent and hit $74.8 billion in the year 2022.
With the increased usage of mobile and the internet, both the developed and developing economies around the world are expected to see a surge in the e-commerce market. Businesses have a tremendous chance to increase their relevance and develop their market in the online world as a result of the changing market conditions.
Related Post: Everything About B2B Ecommerce
Renowned E-commerce Businesses
Technology has helped humans evolve tremendously. Gone are the days when people had to head to the market to buy everything. Today that's not the case. Now customers can order anything at their doorstep. All they need to have this comfort is a smartphone and an internet connection. Life has become easier and more comfortable for all. Moreover, the outbreak of the coronavirus pandemic has brought about tremendous lifestyle changes. It has made many businesses go online, and customers buy online. Now people use mobile applications to even for their daily utilities, such as grocery, medicine, etc.
Some of the well-known e-commerce businesses include:
► Food and Beverage Service: Numerous food and beverage businesses have suffered and grown since their inception, receiving favorable feedback from clients worldwide and providing incredible services right at their doorstep. Because of Covid-19, there has been a significant shift in food consumption and shopping behavior. With an increase in the number of consumers shopping for their groceries online, businesses have found it difficult to fulfill orders.
Individuals began relying on takeaways as a result of restaurants remaining closed, the lengthening wait for online grocery ordering slots, and households growing tired of home cooking.
The upshot was a significant increase in the popularity of online food delivery services such as Zomato, and it didn't take long for companies like bigbasket to see the potential of leveraging their network to collaborate with merchants to deliver groceries.
► Automotive Services: It plays an important part in our society since women preserve the very essence of our country by being able to travel alone anywhere in the world with adequate security ever since this plan has been put in place between us. Uber, Ola, and Make My Trip are examples of such services. These services, however, come under mobile e-commerce and are expected to be included in e-commerce.
Also Read: The Best eCommerce Security Tips And Practices
► Matchmaking Services: There are many websites available for matchmaking. These websites help people find their perfect matches online. "shaadi.com" is one of the examples of online matrimony. This is one of the best, oldest, and largest matrimonial websites in the world, making matchmaking a breeze for couples. All you need to do is to register your profile on these platforms and search for the right partner. Aside from that, there are several other well-known websites, such as Jeevansathi, Bharatmatrimony.com, and Vivaah.com, among others.
► Placement Services: There was a time when employees had to scour through the newspaper to get information on a job opening. That's not the case today; now, aspirants can have their profiles registered on online job portals and search for the right job. There are numerous online portals, including Naukri.com, Monster.com, and so on.
So, these are some of the most popular e-commerce services that are making people's lives easier and more comfortable. That's not just it; pandemic has led to the emergence of many online education platforms, including Byju's. Keeping the covid-19 protocol in mind, most students prefer to take classes online.
That's why more and more people depend on online platforms for most services. It has helped people to have the best shopping experience, especially during a pandemic. And this is not going to stop any sooner. People continue to shop online, which will assist e-commerce businesses to improve and flourish.
The Future of e-Commerce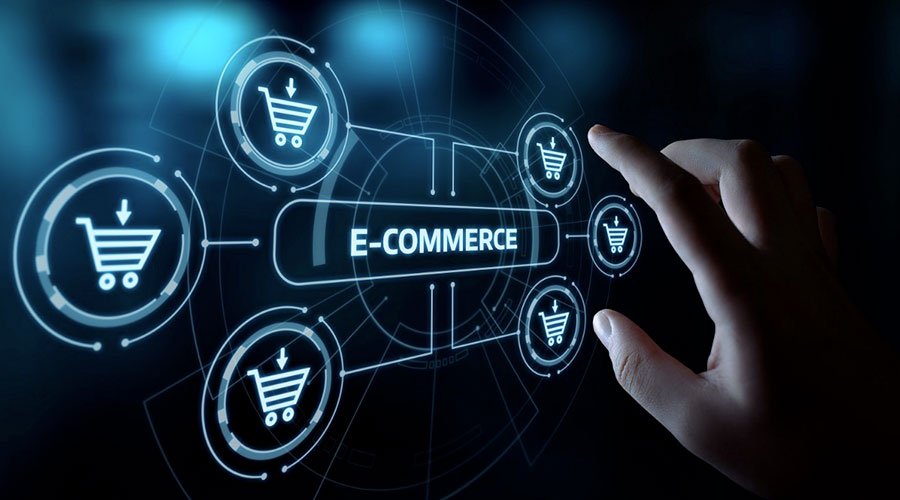 1. Voice search e-commerce
You're undoubtedly already familiar with voice-activated search assistants such as Siri, Alexa, and so on.
However, you may not be aware that these technologies are also applicable to e-commerce and are highly popular with users, particularly millennials.
So, how does this relate to e-commerce?
In terms of online purchasing, an increasing number of individuals will rely on Siri, Alexa, Google Assistant, or similar programs. This means that you may need to adjust your keywords over time to reflect voice-based purchasing.
Voice e-commerce is clearly here to stay, particularly as additional voice-enabled search assistants are deployed.
2. Artificial Intelligence-Based Ecommerce Systems
Nowadays, artificial intelligence appears to be a trendy issue. It's no secret that integrating AI benefits businesses in myriads of ways, from managing customer queries to improving customer experience.
Future AI assistants will be capable of doing a variety of activities, such as responding to client's inquiries and concerns or simply managing inventories and orders. As AI systems progress, assistants will be able to perform a variety of activities, which is why some believe AI will eventually take over the e-commerce market.
Integrating AI into e-commerce will result in a more seamless and speedier customer experience, better services, and so on.
Well, the shortest answer to this is that the Future of e-commerce is pretty bright. Research indicates that e-commerce purchases are expected to increase from 14.1 percent to 22 percent in 2022. These estimates are excessively optimistic, indicating that e-commerce as a business has not yet reached its full potential.
3. And what about in ten years' time?
By 2030, convenience will be the major aspect. Statistics indicate that over 95% of all purchases will be made online. According to statistics, e-commerce will almost certainly continue to expand and prosper at a breakneck pace. Mobile e-commerce will be a new normal, and leading e-commerce countries such as India, America, and Japan will continue to experience exponential growth in the e-commerce market.
Incorporating new techniques, such as Artificial Intelligence, the Internet of Things, Augmented Reality, etc., will help businesses boost sales even further in the coming years. Aside from that, e-commerce will also have a significant impact on our society. Due to the decreased operational expenses of online stores and customers' changed behavior, more and more businesses would opt for e-commerce business format in the coming years.
Take Away
So, that is all about the future of e-commerce. If you're planning to start an ecommerce business, no time is better than this time. NOW is the time to do it. The e-commerce market is going to grow for sure. Starting your business now will let you establish yourself in a timely manner. If you delay the process, you may regret it later.