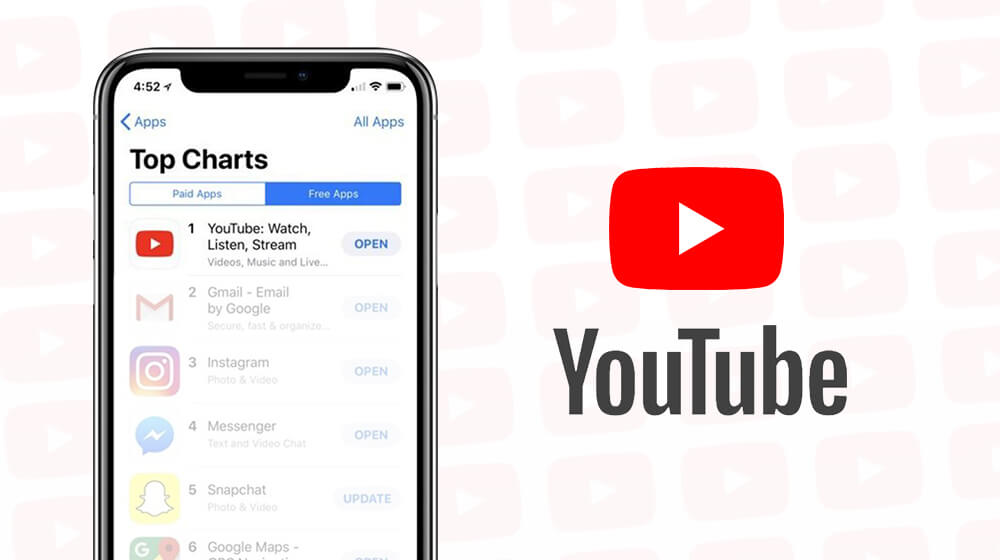 YouTube has achieved another milestone by becoming the Top Grossing iPhone app in the U.S. This has happened for the very first time. Previously YouTube has been on the top but at number 3, this is for the very first time that they are at first position. App Store Intelligence Firm Sensor Tower was the one who identified this achievement of YouTube.
YouTube has always managed to maintain their position on the top when it comes to Grossing charts for years. They started to reflect on the top when they launched YouTube Red in-app subscriptions in the year 2015. This was the time when YouTube app got a great push and they managed making a place for them in the Top Grossing Charts. This happened due to launch of YouTube Red Grossing Charts. This led to the increase in the revenue of YouTube's iOS and it also gave much popularity to the YouTube Red along with popularizing other trends like cord cutting.
The youngest users of YouTube got a big benefit from this; they got their own phones with streaming plans for mobile carriers that doesn't include the data used for YouTube. There has been considerable growth in the live streaming too. Other user engagement features like Reels, Community and Messaging have also seen a considerable growth.
The major factor behind brining YouTube on the top most position is still not clear. YouTube has benefited other parties also by launching the YouTube Red App. Because of this app users started to spend on iOS. YouTube has increased the revenue of iOS tremendously. It has almost made the revenue double of what it was previously.
Major part of the YouTube revenue is because of YouTube's Red Subscriptions. It has increased the revenue of YouTube to a greater extent. Another element that has led to increase in the revenue of YouTube is Super Chat which is YouTube's virtual tipping mechanism. Even it has contributed in increased YouTube's revenue.
Other than this, other sources of YouTube like YouTube music, YouTube gaming did not contribute in the revenue of YouTube at all. The revenue generated by YouTube also excludes the money which is generated by YouTube by some other means like rentals, advertising or purchasing.
The Top Grossing Chart reflecting YouTube on the top position was removed from Apple's App Store and was not made accessible for anyone to view it. But some of the app store intelligence like Sensor Tower and App Annie still have an access to the data and they informed the market about it.