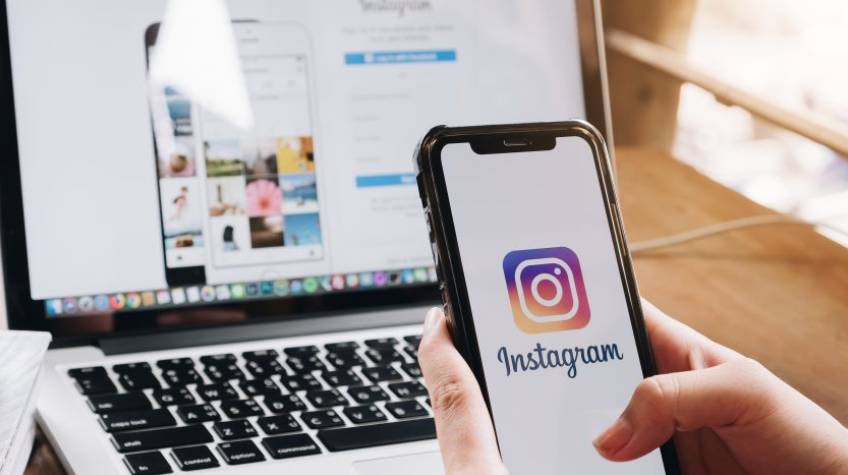 This blog will shed some light on the benefits and tools that facilitate embedding an Instagram feed on the website. These tools will help you with discovering, collecting, and curating the perfect Instagram feed widget on your website in the most effective way.
So, when we talk about attracting new customers, it all comes down to creativity. The most difficult thing for every brand owner is to keep coming up with new content while being equally creative every time. But how does a human come up with new and engaging content ideas every time?
Well, the answer is they can't. There is a creative block to every person. So why not leave it to the professionals? Many people are coming to Instagram daily and creating eye-catching content that spreads joy to the audience while being relatable. These professionals are no one but our customers. Thus, Instagram plays a very important role in expanding and enhancing our customer base and in order to reach maximum potential customers find the best time to post on instagram and post consistently on that time.
You can use user-generated content (UGC) to boost reach and build trust. You can collect UGC in one place by creating a unique hashtag for your brand, launching it on Instagram, and promoting it to encourage people to use it while speaking about your brand. You can also motivate them further by rewarding the best user who created the most unique and creative content.
Most importantly, you can then embed Instagram feed on website using social media aggregator platforms. Not only hashtags but you can collect content from multiple connection types such as profiles, mentions, usernames, etc.
7+ Tools to display Instagram feed on the website
Here are the best social media aggregator platforms to help you embed Instagram feed on the website without any coding knowledge.
1. Taggbox
Taggbox is one of the best platforms to display Instagram feed on the website with some amazing functionalities like profanity filter, hashtag highlighter, analytics features, custom CSS, and much more. This platform singlehandedly finds images and videos from Instagram through hashtags, profiles, mentions, usernames, etc., and displays them on the website without any coding required.
2. Onstipe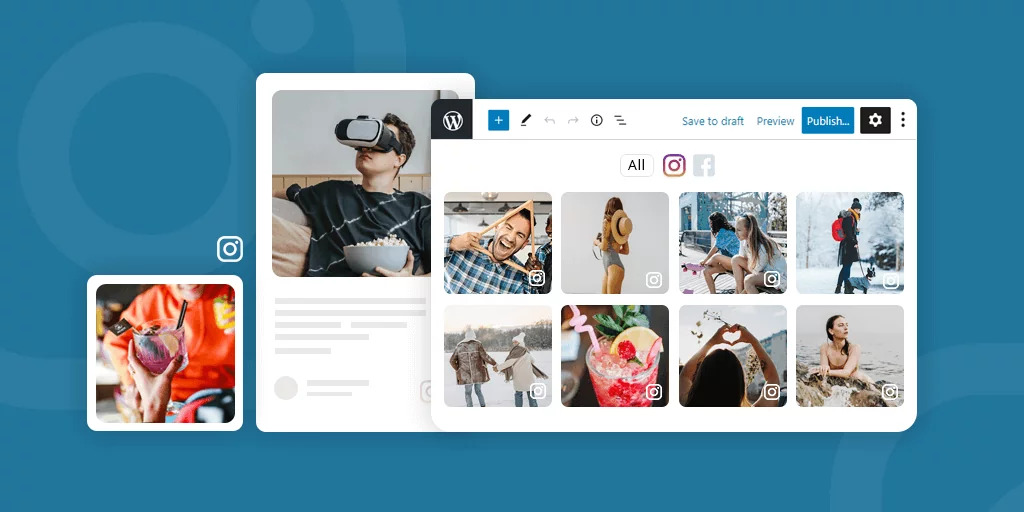 With Instagram marketing reaching heights, it was only a matter of time, before many brands started the embedding feature. Onstipe is one such platform that allows you to embed an Instagram wall on the website.
You can display all your activities on the website like photos, videos, snaps, etc. You can add vibrant colors that make you stand out from the crowd. Adding value to the website content, it provides relevancy to your visitors through Instagram feeds.
3. SnapWidget
Merging Instagram with the website cannot be easier. Tools like Snapwidget help you filter your photos, usernames, and location maps, create slideshows, and much more on the website. It is a free platform that is easy and quick to set up. With the customizing options and easy-to-upload API, this platform is another go-to tool to help you cater to your website visitors effortlessly.
4. Instagram self-embed
Escalating its applicabilities, Instagram provides its users with the feature of embedding single posts on the website. Because it is Instagram's self-embed feature, it is a highly trustworthy method of integrating Instagram into the website.
All you need to do is navigate to the post you wish to embed, choose the embed option from the menu, copy the code, and paste it into your website's backend. The only disadvantage is that you need to add every post manually.
5. 10Web Social Photo Feed
This is a plugin that allows you to present your Instagram feed in the most stunning way possible. With the best layouts, masonry, image browsing options, infinite scroll feature, and much more this plugin helps you create more amazing galleries.
6. LightWidget
This is a helpful tool for embedding an Instagram feed on the website. It is also known as a "Responsive widget for Instagram" and allows you to design responsive widgets that do not affect the website's load time.
7. EmbedSocial
You can generate social media feeds, reviews, stories, albums, forms, etc., and embed them on the website all in one place. It provides an individual widget for every solution and offers more than 10 templates to display the feed beautifully.
You get complete authority over the content you display, you can eliminate any insensitive or inappropriate content from the widget.
8. Curator
Another amazing tool is Curator. This platform helps you embed feeds on the website that can empower your UGC and repurpose it on multiple platforms. With its powerful analytics, you can monitor the success of your widget, use customized designs, get advanced moderation features to filter out content, and curate the best responsive widgets.
9. Juicer
This is an impressive tool to help you leverage Instagram feeds on the website. As we mentioned before, you do not need any developer or technical expertise to use this platform. You can create engaging and attractive widgets within minutes and display them on the website. This helps you generate more leads, boost user engagement, facilitate website experience, offer relatable content, and hike conversion rates.
Up to you!
Achieving the highest ranking in search engines is not easy. Maintaining it is even more difficult, however, as marketers, we can always try and be the authentic form of ourselves. Embedding an Instagram feed on the website gives your audience a sense of trust and builds a robust reputation in the market.
Choose the best aggregator tool that suits your requirements the most and reaps the desired results.