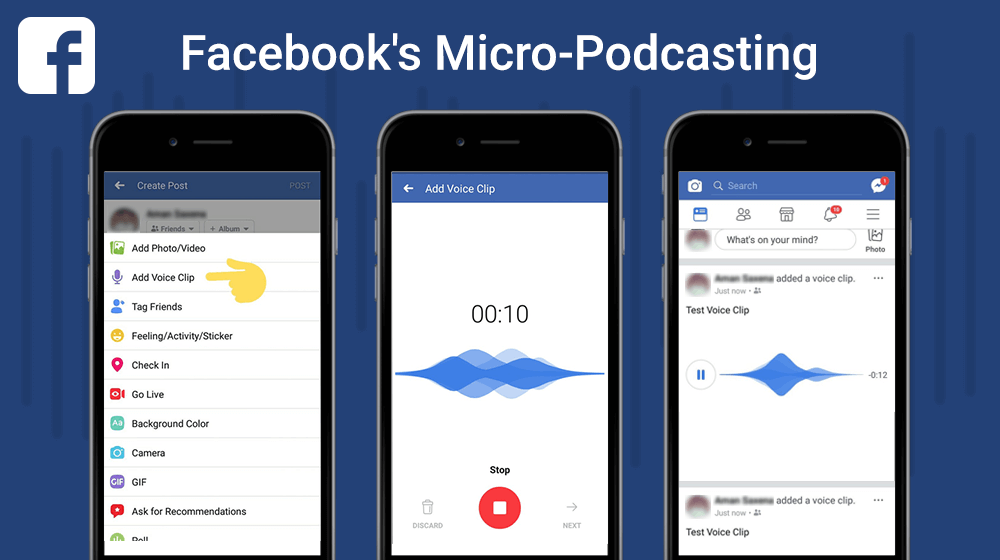 Facebook never settles with the current prevailing situation, instead it strives hard to introduce some or the other innovations in the market. Facebook has refined its platform so as to bring in a lot of changes and valuable features to serve the market with. Facebook this time has been working on something quirky which is not about text but more about video. Facebook is looking to give voice to the people so that they can share more and more on the social network. This will work even more effectively internationally where people have to face non native language keyboards, in that case voice will help them speak their mind without the need of actually typing it.
Facebook recently has made some improvements in its newsfeed, where more posts of your friends and families are being displayed when compared to the random ads. Facebook is currently focusing on developing its new voice enabled feature and is likely to launch it this year itself.
Facebook is testing this feature of Voice Clips as a status update in India as well with some users. Facebook Voice Clips will give the users a new and easy source of communicating with their friends and family and also expressing their thoughts effectively. Facebook has always tried to convince people to share distinct content on Facebook which cannot be easily found on Twitter or any other social media sites.
We all are well aware that recording a voice clip is far better than typing a status. People get more convinced to share deep personal content if they get a choice to do so with the help of an audio. Audio is going to remain in the form of audio itself and it does not demand any video capture or the need of editing the content. No matter people have high tech smartphone or the normal one, only prerequisite for using this feature is a smartphone with internet.
This feature of Facebook is currently in user but that is through messenger and the audio is shared jus to a single person and not to the large audience. In order to use this feature of Facebook all you need to do is log into your facebook account, click on the Add Voice Clip option listed on the status update composer menu. Click on this option will allow you to record an audio message and can post it. The audio once posted can be previewed but editing cannot be made. Once this is done it can be shared on your status to be listened by your family and friends.
This feature will prove to be very beneficial in India, as the users here face lot of difficulties in sharing their content in other languages. This feature has got 22 languages accessibility which simply states that any language of your choice can be chosen to share the audio messages through your profile. This feature will let the users speak out their mind in any language they are comfortable with. Facebook is expecting this feature to hit the bars of success.
Also read:-
Messenger Bots Broadcast – Facebook's money mining tool
Facebook launches collaborative Stories for Groups and Events