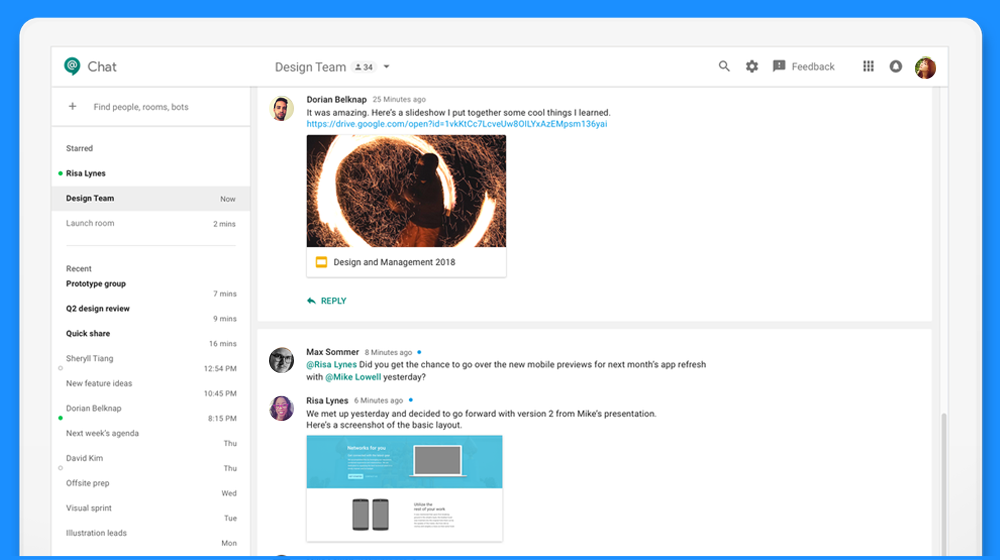 Google the giant of the technology world has also tried their hand in creating some of the applications which can be useful to the users to make their life easy. One such application Google is expected to release is Hangouts Chat. This application gives an access to the users to chat with the other users in private or even in the group to work collaboratively on some project. Google introduced this app in early march itself but it was accessible only to some of the companies which are registered with Google as an Early Adopter Program. But this was the case in the very beginning of this month, now this app is accessible by all the users who have signed upto G Suite, or Gmail, Google Docs or any such Google Software.
Hangout is all about messaging strategy of Google which has been planned by Google so as to enter the field of Communications. The ones who already are using G suite tools, they can get the benefit of using Hangout for free without paying even a single penny. This is possible as Hangout is completely integrated with all the G Suite Apps.
Some of the features that Hangout is expected to give their users are easy upload of files on the Drive, a team can together work on sheets, slides or docs. Not only this even Video Chat named as Hangout Meet is possible wherein all the group members can join in. The one who holds all the credentials for logging in as an Admin can access all the data and can also archive, export and save the chat data. This is made possible using the Vault Application.
Google has mentioned some of the attractive features of Hangout stating, that 25 bots will be featured by Hangout with the purpose of aiding the organization. Company's AI will be used to make the workflow of the company easy and effective. While you are using the application, you will receive a notification when you are added to a file and also when other people wish to access your documents. Using the @Meet bot you can plan your schedule for the following days by integrating with the Google Calendar.
Hangout Chat is compatible with all other usual Hangout apps. It can work in 28 different languages and can be accessed through a web browser client or the standalone apps for both iOS and Android.
Due to launch of Hangout Chat, there are some changes that have been made by Google to its G Suite products. The quick Access file picker will be accessible in Google docs. Also Google Calendar will try to arrange the best meeting room for you with the help of machine learning.
Also Read:
Google servers being used for storage of iCloud data
Google launches augmented reality app ARCore for Android