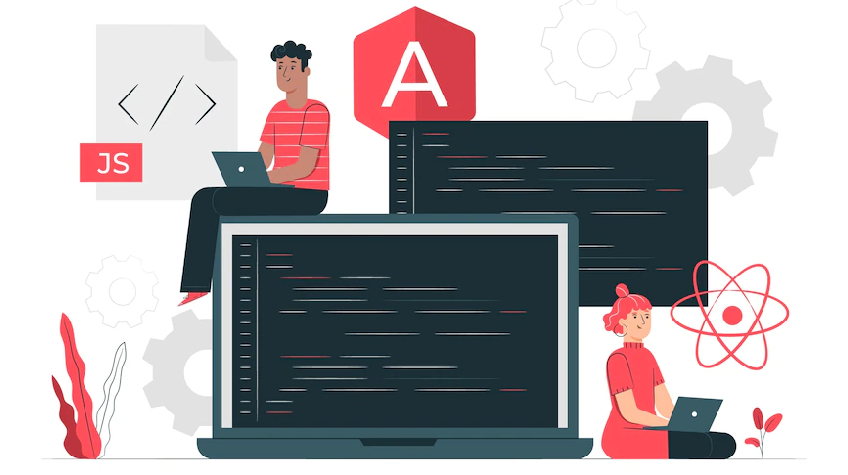 Today, entrepreneurs are facing difficulties in fulfilling the latest requirements of people. The preference for applications among people to satisfy their purposes is increasing at a tremendous pace. So, startup owners started developing solutions by selecting specific tech stuff and have initiated adopting the digital bandwagon for operating their ventures online.
AngularJS is the most preferred technology by entrepreneurs for creating an application of their businesses. It is because solutions are made with cross-platform compatibility, delivering high performance, better build quality, and various other reasons behind AngularJS gaining the preference of startup owners.
In addition, by referring to this blog, you will learn some tips to follow, some pros and cons, and the charges of hiring AngularJS coders to receive an application ready for your venture. Currently, numerous entrepreneurs are going for AngularJS development, and it's easy to appoint programmers working on that technology, as the majority of them worldwide prefer to work on AngularJS, as shown in the image below.
Source: Statista
From the above-displayed stats, you might have figured out that AngularJS is the fifth largest framework utilized by developers from all over, holding a usage percentage of 20.39%. So, if you are motivated to appoint the AngularJS coders, then consider some suggestions mentioned in the next section.
Tips To Appoint AngularJS Developers
Thus, you already have received an idea that the importance of AngularJS is much more among programmers, as it is listed among top names of technologies used mostly by coders that is mentioned earlier, and NodeJS stands first in that list. In fact, both of them are preferable, but there are some distinguishing points between each other. So, now without spending much time, let's know some tips for hiring AngularJS coders.
➢ Determine the Type of Application to be Built
To create a solution for your venture; you must decide the type of venture you want to establish and run online. After that, you are required to note down the ideas and specific attributes regarding the application you want to get it developed by hiring the AngularJS coders from the company.
➢ Finalize Technology Partner
To determine the company for developing an AngularJS application, you need to list out many names that fit your requirements. Then, analyze whether technology partners fulfill specific business requirements and implement the features decided by you. Also, one key component to be considered is the firm's experience which would help you in receiving the desired solution for your venture.
➢ Discuss Development Cost and Your Venture Needs
You must discuss charges for hiring AngularJS developers with the technology partners listed. It includes whether the specific costs of a company match your pre-decided budget or not; if in case it fits your determined budget, then check that it meets your needs within their package of development. The firm satisfying all those criteria should be your pick for appointing AngularJS coders.
➢ Choose an Appropriate Option and Appoint AngularJS Developers
After following the previous tip, you should select a company that perfectly fits your fixed parameters and hire AngularJS programmers of the particular firm who possess solid knowledge of the platform and delivers satisfactory outcomes. Then, remove the rest of all which come below your set par.
These above-mentioned tips might be helpful to you in appointing AngularJS coders from the suitable and trustable technology partner. But now, let's know the specific advantages and disadvantages of hiring them to create an application.
Some Pros and Cons of Hiring AngularJS Coders
There are numerous renowned organizations that are operating online through applications built using AngularJS. They must have analyzed the pluses and minuses of AngularJS developers. If you want to know them, then they are described as follows, the first ones are pros and then cons.
Pros-
➢ Quick Processes
Every process happens faster when your team of coders is expanded. By appointing AngularJS developers from the development partners, you can make your solution faster, create prototypes easily, and can get a testing review done. Hence, each procedure is accomplished rapidly, which helps you in launching a solution in an application store within a short span.
➢ Excellent Outcomes
By hiring AngularJS coders, you can spot the change in quality of output received. So instead of getting an average outcome, you can gain top-notch results by appointing experienced and knowledgeable AngularJS programmers.
➢ Pocket Friendly
If you are willing to save money for creating the AngularJS solution, then you can approach an offshore firm offering IT services for appointing programmers working on AngularJS. It would cost you a minimum amount for providing a desirable AngularJS application.
Now comes the cons of hiring AngularJS coders. They are as follows:
Cons-
➢ Lingual Issues and Location Problems
These difficulties occur most probably on appointing programmers from abroad. Moreover, a renowned firm recruits only those developers who are convenient with English and is flexible to work in your suitable schedule.
➢ Low-Quality Output
By engaging with AngularJS coders from companies, there is a significant drawback of getting lower output quality, so you need to send the solution for 2-3 revisions. While, if you're looking for outsourcing requirements, then it's even an arduous task to manage the outcome.
Cost of Appointing AngularJS Developers
Currently, there is a trend of switching businesses online by building solutions on a particular platform, so most entrepreneurs are appointing programmers working on AngularJS technology. So if you as a startup owner are planning to hire AngularJS coders, refer to their prices in various nations mentioned in the following table before getting involved in hiring them.
| | |
| --- | --- |
| Countries | Rate of AngularJS Coders Per Hour(in USD) |
| Switzerland | $50-$100 |
| Netherlands | $45-$85 |
| Canada | $65-$90 |
| USA | $80-$110 |
| India | $35-$60 |
Thus, by knowing the prices, you might have received an idea to appoint programmers if AngularJS from a particular country. It would help you to save money and time for building AngularJS solution.
Summing Up:
Therefore, from this post, you have learned about a few tips, pros & cons, and the cost of hiring AngularJS coders to create an application for your venture. Also, it is a perfect move to adopt the latest bandwagon for operating the business online and offering services to users, which would help your enterprise earn colossal fame.