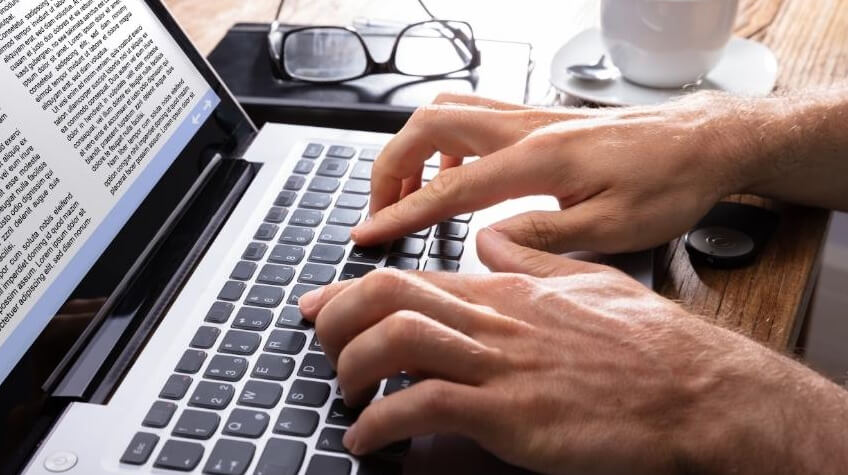 When you're asked to compose an essay, you often wonder, "How do I start?" and "what would I discuss?" Alternatively, suppose you were requested to create a portfolio essay. Your next concern would be what a portfolio essay is and how you can write it. A portfolio is a collection of the finest works in a particular discipline. It may be work from prose, poetry, art, or any other type of writing. There's more to this than simply collecting. It will take work on your part to examine it in an essay. What should you do next? Follow the steps in this article to learn how to write a portfolio essay.
Understand the definition of a portfolio essay
A portfolio essay differs from other essays in that it incorporates reflection. An artist or author should constantly be able to evaluate and examine their works. Reflection is the practice of delving deeply into one's personality by examining oneself, your own emotions, feelings, and ideas. Such a procedure would result in psychological self-analysis if pursued to its logical conclusion. However, doing so is not necessary. All that is expected of you as you write a reflective portfolio essay is to reflect on your work, in which you should note both the positive and negative aspects as well as the circumstances and motivations that led to its creation.
Focus on your portfolio essay
You are not required to determine the specific topic since a portfolio essay does not have a clear theme. You should have received specific preparation instructions from your teacher, such as to use writings from the most recent academic year. Therefore, the emphasis of your portfolio essay will be clear. It may be either on your writing improvement (during the most recent academic year) or on your works on a particular topic. Make sure you know what is expected of you as you start a portfolio essay. To avoid wasting your time and effort, present your professor with your chosen essays or writings. After that, you may resume drafting the essay.
Choose a few writings
Choose your works based on the standards your teacher has established. They include the following:
Chronological – beginning with the current year, from university, high school, and so on.
Thematic – focused on a particular issue such as human nature, society, etc.
Style – works you produced in a specific style or relating to a particular literary movement, including surrealism.
There can be other requirements. Suppose you must choose your top five short stories. That implies that you must pick them based on how you perceive them. Whatever the criteria, keep in mind that you're only supposed to choose well-written papers; if you have to present all essays created throughout the academic year but dislike any of them, you aren't required to submit them. State your decision-making process in the beginning.
Learn the steps to write a portfolio essay from experts
Sometimes you're pushed for time or trying to manage too many tasks simultaneously. In these situations, it would be best to seek writing tips from professional essay writers. CustomWritings.com provides students with a variety of essay writing services, including portfolio essays. If you want to collaborate with one of their top professionals, the company can help. The writers will assist you in selecting the best works for your essay and compile them to form a high-quality portfolio, increasing your likelihood of academic success. To find out more about their cheap assignment help, visit the website.
Introduce yourself
Your introduction must be the first part of your portfolio essay. You must identify yourself. Why did you choose the particular class or course? What about writing appeals to you? Write a portfolio essay introduction that conveys all of this information in a single, lengthy paragraph that is five to 10 sentences long. Nonetheless, keep it brief since this isn't an autobiography. The portfolio is similar to advertising in that you must highlight the best aspects of your product to sell it.
Describe the works you've chosen to present
Now you must individually characterize each writing. Some learners include descriptions before each writing, which is incorrect. The introduction, which comprises the description, and the works make up the two primary elements of a portfolio essay. You must read them before writing the portfolio essay to present them correctly. Although you can still recall what you wrote, it's good to reread it. Utilize your notes to help you create the descriptions. There should be one paragraph for each description. As you write a portfolio paper, you must be clear about the following points:
The title of the writing
Its genre and style
The principal concept and its characters, if applicable
The tools and methods you used
Establish the general concept of your portfolio essay
Following the description, you must form an opinion about the writings you provided. Explain to the reader what makes each of them unique as well as how they are complementary or similar. While writing portfolio essay, you should respond to a few of the following inquiries:
Do you see a shift or improvement in your writing abilities?
Have they advanced?
Do the things that affect your writing remain constant throughout time?
What flaws do you now perceive in your earlier works?
What do you wish you could go back and change?
Also see: 9 Writing Tips to Create Engaging Content for Your App
Address any observations and comments
You should include a separate section outlining the adjustments you have made if your teacher has previously read through your works and you have made modifications due to their comments. Write down the concepts you've added or eliminated, the characters you've modified, and so on.
Proofread several times
You likely feel happy that your essay is finished after working so hard on it, but keep in mind that the quality of your essay depends on how well you edited it. Therefore, don't believe your job is over just yet. Avoid writing and editing on the same day. Give your eyes a break by letting your writing sit for a bit. The following day, return with a new outlook. Doing this will allow your mind to pay attention to the actual words instead of what you believe you wrote.
When proofreading, look for writing errors such as improper citation, irregular sentence formation, grammar and spelling errors, illogical flow, poor sentence structures, and inconsistent tenses. Reading aloud is another effective technique for proofreading. This approach is excellent for assessing the structure of your work and quickly detecting mistakes. I would also help to ask a friend, family member, or instructor to read your essay. When evaluating your work, you may occasionally have blind spots. Thus, acquiring a different viewpoint is beneficial to help you write a good portfolio essay.
Final thoughts on writing portfolio reflection essay
As you can see, writing a portfolio essay is not as difficult as it may seem if you follow these basic guidelines. To write a stellar portfolio essay, you must enjoy the process and avoid seeing it as a chore. Make the most of this article to increase your knowledge, improve your writing, and have fun.