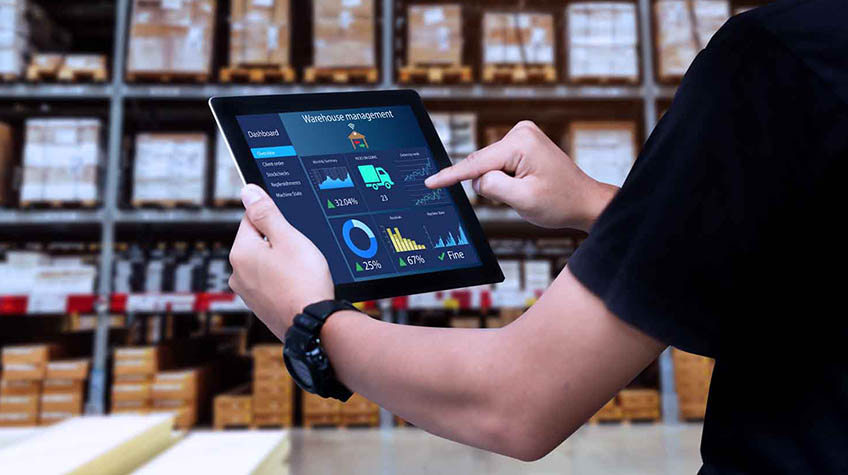 How to choose the best Inventory Management Software?
This is a frequently asked question because clients find it difficult to choose the best IMS from the many options available. You must, without a doubt, use the correct inventory management software to get the most out of it. And knowing which features make up the ideal solution is critical for this. A good inventory management system allows you to keep track of everything in your inventory, including raw materials and completed goods.
Besides, it comes equipped with features for forecasting inventory levels so that you can better serve your customers. Barcode scanning capabilities are included in successful inventory software to eliminate data entry errors and provide automation. At the same time, it sends you real-time warnings and updates to keep you from running out of stock or overstocking. Moreover, an Inventory Management Software should be scalable and have the ability to integrate well with other systems, such as accounting software.
Wondering which Inventory Management Software is best and how to choose the best one?
We have rounded up a list of the top 12 effective inventory management software to help you get started.
Take a look…
TOP 12 INVENTORY MANAGEMENT SOFTWARE
1. Zoho Inventory
Zoho Inventory is one of the popular inventory management systems that help businesses optimize their operations by allowing them to manage inventory, purchase orders, sales orders, and shipments more effectively. When a purchase, sale, invoicing, or billing occurs, Zoho remembers the business GSTIN and auto-populates it. Zoho Inventory is a feature-rich, AI-powered inventory management solution with item-kitting capabilities that can be tailored to fit the needs of any company.
Zoho Inventory is an end-to-end tracking system that allows you to follow each item's travel from warehouse to salespoint. Another vital feature that Zoho Inventory provides to its customers is real-time shipping rates and in-transit information. New clients can get a free demo of this small business inventory software, which will help you evaluate the most significant features. By making invoices and allowing the team to manage the firm efficiently, Zoho Inventory saves time.
Pricing:
Basic – $49 per month
Standard – $99 per month
Pro – $249 per month
2. inFlow Inventory
inFlow is inventory management software that tracks items, manages orders, generates bills, curates reports, and handles various trade and transaction procedures for item-based enterprises. It provides materials billing, invoices, and other receipts, as well as secure online payment portals and timely order procurement, shipping, and delivery. The flexible interoperability of inFlow with user platforms such as Windows, iOS, and Android allows you to stay on top of your game by allowing you to see everything you need to know in a single click. It is a fast and effective solution for business owners looking for mesmerizing IMS for inventory management
Pricing: $71 per month
3. Zenventory
Zenventory is one of the best business inventory management systems available, offering a time-saving, efficient, and cost-effective cloud-based solution for managing orders and stocks. It comes equipped with powerful tools to maintain inventory and manage orders on multi-channel portals and is available at a game-changing price. The platform is tailored for small businesses looking to make an impact on the global market through a progressive workflow. The best thing is this software provides limitless user access and multiple warehouses at no additional cost.
This cloud-based technology enables users to connect any device, tablet, or mobile app to track goods movement efficiently. It has dynamic features such as item management, vendor management, cycle counting, innovative par level and kitting, multi-warehouse readiness, and low-stock warnings. You can locate stock in multiple places and enhance picking efficiency with Zenventory. This omnichannel software is very adaptable and aids in the proper integration of the solution. Zenventory allows you to choose warehouse locations based on your business needs, eliminate the bulk of pick process errors, and remain on top of stock levels via stock level alerts.
Pricing: $99.00 per month.
Also Read: Warehouse Management Software: Guide on How to Optimise Your Warehouse
4. Megaventory
Megaventory is a cloud-based inventory management software for medium-sized enterprises, such as retailers, wholesalers, and manufacturers, as well as franchisees and nonprofits. This superb business software enables you to manage sales and purchase orders, sales quotations, backorders, returns, dropshipping, and inventory with serial numbers and barcodes. It's a multi-user platform. This Inventory Management System primarily focuses on providing merchandise at multiple locations, keeping track of stock levels, confirming supplier availability, and ensuring inventory is returned on time.
Pricing: $150.00 per month.
5. Orderhive
Orderhive is a cloud-based inventory management system that handles everything from order fulfillment to e-commerce automation to product movement management. This all-in-one platform solution helps you make better business decisions. Orderhive is a cutting-edge software that handles real-time inventory synchronization, e-commerce automation, and streamlined buy management while also providing quick analytical reporting.
By eliminating guesswork and properly tracking product flow, this inventory control software keeps inventory levels under optimal control. Orderhive is a marvelous piece of software that cuts costs, automates tedious tasks, and synchronizes inventory across sales channels, warehouses, and delivery centers.
Pricing: $0.01 per month
6. Sellbrite
Sellbrite is a small business inventory management system that enables business owners to have total inventory control and eliminate overselling of products. It is one of the most organized and user-friendly inventory management software. It provides enterprise-level inventory management capabilities and aids in establishing a balance between stock, sales, and purchase orders.
This software provides centralized inventory management from a single, easy-to-use interface, whether the company deals in hundreds or thousands of items. You can quickly examine and manage reserved, on-hand stock levels and available products with the software. Sellbrite comes with automatic inventory adjustment features that allow entrepreneurs to manage their FBA amounts across different channels.
Pricing: $19.00 per month
7. TradeGecko
TradeGecko, a small business inventory software, is a popular and user-friendly inventory management system. This versatile inventory management software is designed to help high-growth eCommerce and multi-channel businesses succeed. TradeGecko is a cloud-based inventory management software for small and medium-sized businesses with limited resources but a desire to succeed. It helps you increase your bottom line and work smarter, and grow faster.
This inventory management system is capable of managing inventory across several warehouses by automatically updating inventories and keeping track of stock levels. The inventory optimization tool simplifies internal operations and helps businesses choose the best stocking approach. You may use TradeGecko to move stock between warehouses, manage numerous currencies, receive and fulfill orders, synchronize orders with inventory, and view sales reports. TradeGecko also serves as a central point for inventory management and maintaining a balance between B2B, B2C, and marketplace transactions.
Pricing: $39.00 per month
8. ERPLY
Erply is a great Inventory Management Software that allows you to keep track of things you sell and handle orders, sales, and deliveries all in one location. It prohibits any item from going out of stock or being overstocked. It also delivers valuable reports that include sales history, customer and supplier orders, supplies that require rapid replenishment, and even inventory that is being moved to a new location.
Besides helping you keep track of your inventory's current status, it also helps you manage orders from multiple sources, controlling inventory across multiple warehouses, and directly connecting suppliers to products to automate the ordering process. Furthermore, all of your data is collected and saved in a cloud-based model, which provides you with valuable data such as the sort of product your clients prefer and allows you to tailor your marketing plan around it. It assists you in streamlining your sales process and making it faster and smoother with a better customer experience.
Pricing: $39.00 per month.
9. EZOfficeInventory
EZOfficeInventory end-to-end inventory tracking software integrates seamlessly into your organization and provides turnkey solutions. It keeps track of stock and provides real-time inventory data to its users. With EZOfficeInventory, you can maintain track of your inventory, monitor incoming and outgoing product movements, track warehouse goods, manage and track purchase orders, calculate lifetime costs, generate actionable analytics, and scan large quantities of inventory with any device, including mobile.
EZOfficeInventory is a simple-to-use, intuitive tool that aids management in tracking the exact location of products and creating purchase orders accordingly. It's a cloud-based system that helps businesses overcome the problems of stock-outs, wrong stock counts, lost equipment, and time-consuming labor.
Pricing: $35.00 per month.
10. ShipMonk
ShipMonk's business software solution is jam-packed with great capabilities, including over 60 integrations with online marketplaces, shopping carts, and solution providers. It puts everything into a single, simple-to-understand interface, from orders to inventory and warehouse management.
This software was designed with growth in mind. It's one of the best Inventory Management systems for small and medium-sized eCommerce businesses looking to scale up their operations with solid, user-friendly technology. ShipMonk serves not only eCommerce business owners but also it serves crowdfunding campaigns and subscription boxes, allowing merchants to smoothly expand into new business endeavors without breaking stride.
Pricing: ShipMonk prices are based on the orders you process per month. You can visit shipmonk.com pricing for getting the prices.
11. ecomdash
ecomdash is an advanced inventory management system. This online inventory system assists every firm in managing goods across several online selling platforms such as Amazon, eBay, Etsy, and others. ecomdash provides you more time to focus on business growth and supply chain insight. This inventory management system allows you to effortlessly track and sync product quantities, set custom alarms to tell you when inventory levels are low, handle purchase orders, and improve multi-channel product tracking.
This comprehensive inventory management software automates stock bundling; multipacks submitted to FBA track specific components, itemized costs, create work orders, and properly sync numbers across sales platforms. Product SKU mapping is also available in ecomdash, which aids in the tracking of products via unique mapping identifiers. Moreover, the support team of ecomdash provides you with a free inventory guide on managing multi-channel vendors and product movements.
Pricing: $60.00 per month.
12. Primaseller
Lastly, we have Primaseller in the list. With remarkable features and amazing customer services, Primaseller is one of the top POS, inventory, and order management software. This platform was created with modern retailers in mind who want to integrate a centralized, synchronized inventory software that can be easily integrated into multi-channel enterprises that sell both offline and online. Primaseller is a cloud-based platform for managing e-commerce orders in one location and maintaining a reliable and secure stock count.
Primaseller makes it easy to control suppliers, and the procurement process with automated buy orders creates and monitors client orders and creates a unified database for all retail locations. The platform gives detailed sales analytics across several channels. Primaseller automatically updates inventory information across selling sites whenever the business receives orders through online channels. This platform functions as a digital catalog, allowing the entrepreneur to update product information, add new products, synchronize price, and group products together.
Pricing: Prices vary from $59 to $299 per month based on the business size and its requirements.
USES OF INVENTORY MANAGEMENT SOFTWARE
Inventory management software is frequently used by businesses to lower their carrying costs. The system tracks products and parts transported from a vendor to a warehouse, between warehouses, and lastly to a retail outlet or directly to a client. Inventory management software is used for many different things, including:
To maintain a healthy inventory balance between too much and too little.
Inventory tracking, while it is moved from one area to another, is indispensable. An Inventory Management Software makes tracking inventory a breeze for business owners.
Taking items from a warehouse and picking, packing, and shipping them.
Businesses use IMS to maintain a record of product sales and stock levels so that they can manage the right inventory in their warehouses.
To reduce product obsolescence and wastage.
To receive merchandise at a warehouse or other place.
Preventing sales from being lost due to out-of-stock circumstances.
Manufacturers, in addition to warehouses, employ IMS to ensure seamless operations. They use it mostly to create work orders and bills of supplies.
IMS helps producers efficiently assemble the equipment and parts they require to execute certain jobs, which speeds up the manufacturing process.
Manufacturers can create multilevel work orders and bills of materials for more sophisticated manufacturing operations, which contain a timeline of procedures that must occur in the correct order to build a completed product.
Reverse work orders and auto work orders are two additional types of work orders that can be created with inventory management software.
Lastly, manufacturers also use inventory management software to track assets, receive new inventory, and do other functions similar to those performed by enterprises in other industries.
FINAL THOUGHT…
A good inventory management software can help you in myriads of ways, such as by improving the efficiency of your stock management. That is, an inventory management system aids in the control and balancing of goods flow both inbound and outbound.