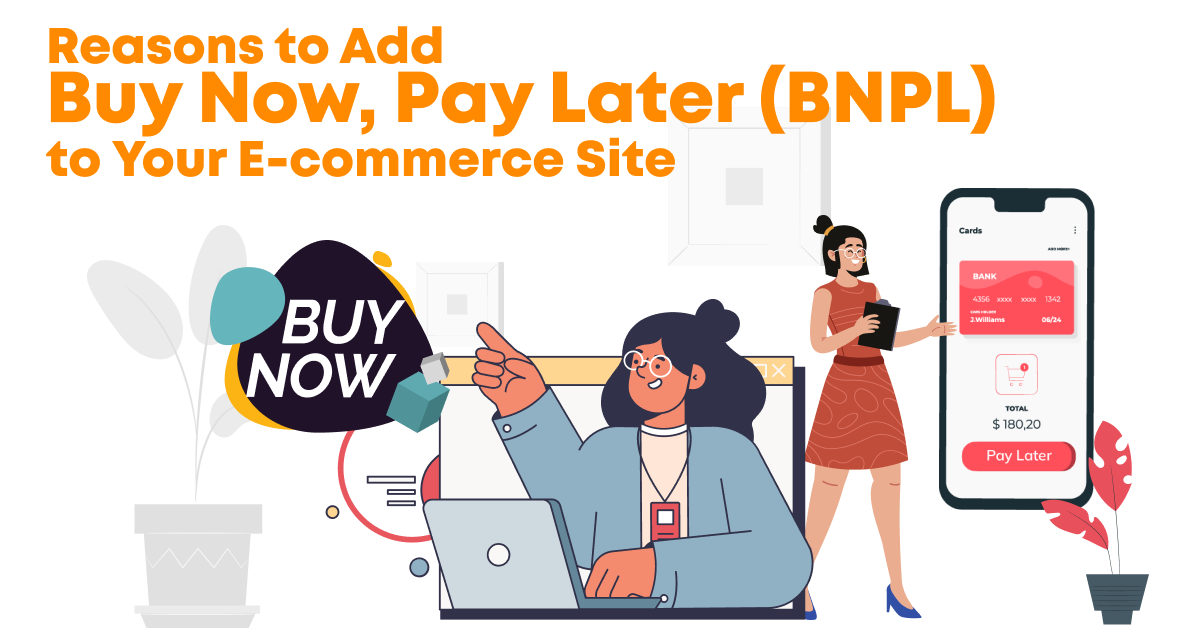 We witness the impact of technological advancement in every walk of life and payment methods in online and offline stores are no different. The traditional credit system has shifted to alternative payment solutions, and Buy Now, Pay Later (BNPL) is the latest trend. As an affordable option for convenient purchases, BNPL is gaining popularity among customers and eCommerce businesses, as those who incorporate this option witness better conversion rates.
What is BNPL?
Buy Now, Pay Later (BNPL) is a payment model where customers can make a pre-order of the products they wish to buy and have not yet released. While placing the order, they can go for BNPL, which later converts as installments. These installments are set on a schedule, and the customers get the flexibility to make payments on a due date. With BNPL, the eCommerce store owner gets paid upfront, and the payment partner of the store takes up the responsibility and risk of customer follow-ups.
Credit Card Vs. BNPL
Credit cards and BNPLs are similar as both provide the borrower with postponed repayment choices. There are, however, some significant distinctions between these two credit packages. The first and essential consideration is accessibility. While obtaining a credit card requires a good credit history and a rigorous verification process, BNPL offers hassle-free credit access. You could easily use an e-commerce platform to purchase a product or pay your utility bills by selecting the BNPL option at the point of payment.
Credit cards and BNPL differ in access and convenience, and other ways. Credit cards, for example, often give interest-free credit terms of up to 45 days, although BNPL frequently offers interest-free loans with a shorter credit length, say 15 days to one month. Credit cards have membership fees, recurring annual costs, and so on, which might be more significant for premium cards. BNPL, on the other hand, is free of such fees.
The types of BNPL are:
1. Make full payment within 30 days of purchase with zero interest
2. Short-term payment with multiple installments; No interest and no price difference
3. Short-term payment with multiple installments; no interest but slight price variation
4. Intermediate payment with multiple installments and interest; no price difference.
How Does BNPL Work?
The main distinction between BNPL service providers is that they use the same
operational paradigm. The process flow is as below:
Purchase something from an affiliated merchant
Select the "Buy now, pay later" option
Pay an affordable down payment
Settle the balance amount in interest-free EMIs at an affordable rate
Reasons to Add Buy Now, Pay Later to Your eCommerce Site
Convenience is the key and BNPL enhances the same. As an eCommerce store owner, you will find many convincing reasons to add the Buy Now,Pay Later option to your checkout process.
➨ Customer Preference
Low credit penetrations and the rise of digital penetration have given rise to the BNPL boom. Customers are finding BNPL as an affordable payment option. It is more reasonable than credit cards as there is no maintenance cost and has fewer restrictions like no fees and interest as long as you pay the installments on time.
Compared to credit cards, it is easy to access, and GenZ consumers and young millionaires prefer BNPL to credit cards. So if an eCommerce site has a BNPL option, the chances of conversions are higher compared to sites with traditional payment methods.
➨ Convenience and flexibility
Customers are not very comfortable with credit cards because they have numerous limitations and extra payments. These worries do not apply when opting for BNPL. BNPL is the most flexible and convenient payment option as it guarantees upfront payment and on-time delivery, eliminating the chance to order later. BNPL also avoids cart abandonment issues , bringing better sales for your business.
➨ Keeps Your Store Competitive
BNPL keeps you at par with your competitors as it has easy access to credit. When most of your competitors use BNPL for payment, your business competitiveness gets disregarded if you are not using this. Staying up-to-date with the latest trends is crucial for any business to be competitive.
➨ Increased sales
RBC Capital Markets, the leading Financial business leader, states that BNPL can increase retail conversion rates by 30%. Many of us as customers prefer to leave a site when we don't find the payment option we usually use. That is where the multiple payment options like BNPL work as a redeemer as it gives customers greater payment flexibility.
➨ Reduced Cart Abandonment
A study carried out by cast cart stated that BNPL implementation can reduce cart abandonment by 35%. BNPL is a great option to overcome reasons for customers' shopping cart abandonment, such as additional costs and complicated checkout processes. Customers often leave a cart because they feel the prices are unaffordable. But with BNPL, purchasers can pay at their convenience in smaller installments.
Also Read: 6 Factors That Have a Major Impact on the Success of Your eCommerce Store
➨ Increased Average Order Value (AOV)
Customers feel more confident with BNPL, and statistics have shown that AOV increased by 15-85% with BNPL. According to research findings, 36% of customers believe flexible payment options would encourage them to buy with a brand again, and 27% say flexible payment options would make them more likely to spend more with a company.
The deployment of a BNPL system can improve the ecommerce checkout process itself. According to research, the most common cause of brand disloyalty is a lengthy and inconvenient checkout process.
Just ask yourself whether you will stay on your favorite eCommerce site if the checkout process takes time or if the payment is too high to afford then? Definitely yes, suitable? You will choose to leave the site wishing there was an alternative payment and the checkout process is less complicated. So when customers have the option of convenient payments, the average order value will significantly improve.
➨ Enhanced Customer Lifetime Value (CLV)
Customer Lifetime Value is the net profit made from one customer over time. Different options enhance customer lifetime value, and BNPL is one of the best. BNPL helps businesses build trust and earn loyalty. Customers choose particular retail not when the product meets all their requirements, but there are numerous other reasons. One such is BNPL, where customers don't have to worry about credit checks, EMI, interest rates, etc. BNPL makes customers return to a store more often.
Is BNPL for You?
BNPL is definitely for you if you are confident in paying your installments on time. But if you are not in a position to afford the installments you opted for, it will affect your future opportunity as nonpayments can impact your credit score. So it is advised not to opt for BNPL if:
Your income or salary is irregular
You run a business and is not earning a fixed income
Let us wrap it up!
If you are running an eCommerce store, you can go for the Buy Now Pay Later option, as it offers you and your customers a wide range of benefits. BNPL helps build a personal relationship with customers converting them into loyal customers. Offering this option makes your client feel you trust them and address their pain points, growing your pool of loyal customers.
Connect with us if you want to incorporate BNPL during your WooCommerce development!
Author Bio:
Jennifer Simon is a well-experienced WooCommerce developer at Virtina. She has been helping eCommerce customers gain in depth knowledge about various eCommerce trends.