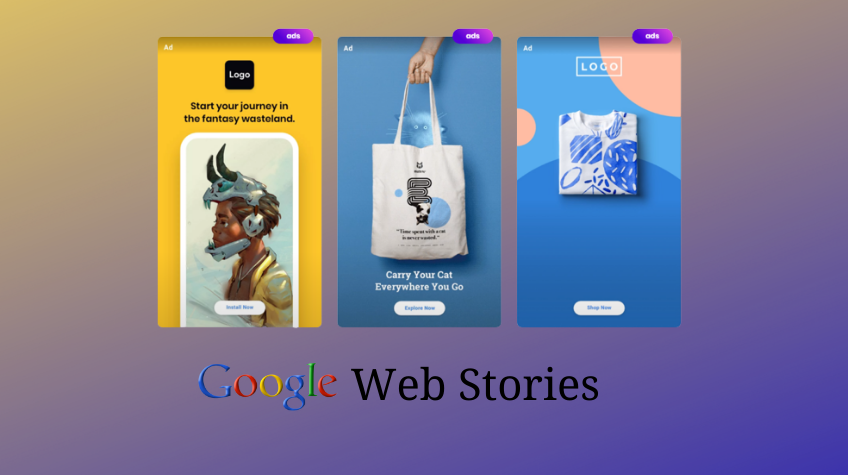 Social media has gained a lot of traction these days. People choose to engage intensively with social media.
The tech giants always try to come up with innovative ideas to engage more and more people. Currently, tappable stories are a huge trend. People enjoy swiping through stories and indulge in the content that is shared.
You must have seen these tappable stories on many social media platforms like Instagram, Facebook, and Snapchat. Snapchat was the first to introduce the "stories" format into social media in the year 2013. It allowed users to view, share and save stories.
Later, Instagram came up with its own style of tapping stories. It introduced a feature called "highlights" to save the stories for a long time for people to view.
Tappable stories have not just remained a feature of fun but have gone way beyond that. It has become a great tool for marketing and engaging with the target audience.
It helps the companies to bring traffic and interact with them. In 2018, Google also joined the club and introduced Google Web Stories (earlier it was known as AMP stories which changed to Google Web Stories in the year 2020).
The features of Google Web Stories go way farther than what the other companies provide. It provides a great opportunity to use Google Web Stories with SEO and achieve your marketing goals.
This must raise many questions in your mind about Google Web Stories. If you are looking for answers to any of the below questions then read on.
Table of Contents
► What is Google Web Stories?
Google Web stories use the Accelerated Mobile Pages technology to create stories that are visually appealing and provide an immersive experience to the users. The stories are in full-screen format and it allows you to swipe, pause, save, share, and perform other such functions.
The stories can be created using videos, images, graphics, and other such visual elements to make the brand story or narrative reachable to all.
It can be easily blended and included in your own website. This feature provided by Google sets it apart from the other "stories" feature-providing companies. You are the creator and controller of the stories that you create and no one can control the kind of content you create and publish.
► What are the features of Google Web Stories?
You can navigate between the stories, pause them, switch between two stories, and even share them. You can include various creative and interactive elements like images, videos, graphics, sound, music, etc.
Web stories can be indexed, so you can reach your audience organically. It is shown on Google Discover which can hike your viewers.
► Where do Google Web stories appear?
Google Web stories can be seen across the web. This exclusive feature makes it a very important marketing tool. You can reach millions of people with one single story. Catchy, right?
Google gives the freedom to the creators of stories to post them on their own websites. When you post the stories on your website you lead them to your page. You are the sole receiver of the benefits the web stories provide.
The additional benefit is that you can create immersive and rich content at your own will without any restrictions.
Google Discover is a feed curated on the phone to help the viewers choose from various types of media and content. Recently, in 2020, Google announced the inclusion of web stories on the carousel of Google Discover.
Your web stories appear on the top shelf in Google Discover. However, this up-gradation is only available in India, Brazil, and the US.
You can create and publish your web stories as a google search result. Web stories get indexed and converted into grid styles when they appear in the search result. It means that whenever a person searches for something on Google, the search results show the web stories also.
In addition, you can also see the stories in the Google image section. The web stories appear in google search results in two ways: The Grid-Style view and The Single Result view
In the grid-style view, the search result shows various wen stories with similar content in a grid view. In the single result view, the search result shows the top publisher's web story on the top followed by the stories of other publishers.
You can publish your web stories on any online platform that you own such as websites, e-mails, blogs, etc. This is possible because of the exclusive feature of Google Web Stories to give complete control and access to the creator of the stories.
The AMP technology can help you curate stories in different sizes, styles, and formats that are suitable to post and view on various devices such as smartphones, tablets, laptops, desktops, etc.
► What are the benefits of using Google Web Stories?
Google Web stories are different from the stories of the Competitors. It comes with a lot of benefits that would convince you to use Google Web Stories.
• New and interesting to view
This is comparatively a new feature that Google has introduced. So, it constantly tries to make the stories trend and bring them on top of the search results. In addition, the users find it fun and interesting to read the content of web stories.
You can use this to your benefit and create web stories to reach more audiences.
• Convenient to create
It is very easy and convenient to create web stories as it has very user-friendly features. You can easily create a story of your liking with the use of different tools.
It allows you to turn the story into different sizes and formats as well. The stories have no time limit which helps to include as much content as you want.
You can also link your story to different social media platforms and attract people to view your stories.
•Enables Tracking
Google considers the web stories as web pages when you post them. So, it allows you to use Google analytics and track the reach and performance of your story.
It can help you to analyze the users and track your growth. You can assess your marketing strategy by using these analytical tools.
• Can be monetized
Google gives you complete control over your web stories. You can create and post them on your website.
You can include Google Ads as well. This can help you monetize and you are the sole beneficiary of the money earned through it.
• Easily spread Brand awareness
Web stories provide an immersive experience and engage a higher number of audiences. Due to the creative elements like images, videos, graphics, and live stories, people tend to read the content with interest. You can easily make your brand story reachable to larger audiences and spread brand awareness.
► How to create Google Web Stories?
Are you new to creating web stories? Here are some steps that can you can follow to create your web stories.
• Step 1: Plan the story you want to publish
Do not try to directly dive into creating a web story without any planning. It is very important to create an outline of what you want your story to be about. Your web story should be a good narrative divided into slides.
Plan the main idea you want to present. Create the outline of the introduction, body, and conclusion you want to include. Do extensive research, write content and then move to the next step.
• Step 2: Use tools to create Web Stories
Creating web stories requires a good technical understanding. But what if you don't have technical skills? Don't worry. Google has got you covered. It allows you to use tools that can assist in creating web stories easily.
Let's begin with one of the most popular content websites, WordPress. Google allows you to create web stories using the WordPress CMS Plug-in. Your web page and WordPress are integrated and you can create a web story by dragging and dropping the content into the creator tool.
It will automatically create a story and suggest you various designs and templates as well.
Another user-friendly tool is the Newsroom AI. It is a free tool that also provides various formats, templates, and designs to create stories.
You can access it with your Google account and create a web story for free.It also has an analytics feature that you can use to track the performance of your story.
You can also easily get accustomed to other third-party tools while creating web stories like Make Stories, Shopify integration, and many more.
• Step 3: Bring Creativity and Uniqueness to your story
Creating a bland story is not going to help you in any way. You should make the best use of the available formatting tools.
Use different font sizes, styles to highlight your message. Incorporate a variety of visual assets like images, videos, and graphics to make the content engaging.
Web stories act as a brilliant way to attract traffic. So don't forget to include Call-To-Action (CTA) in your story. Make sure that your story is engaging, creative, and well-linked.
•Step 4: Test your Web Story
Google creates a URL for your web story. Try to test your story and check if it is AMP-validated.
• Step 5: Publish your Web Story
Publish your story and keep track of the responses and analytics of your story.
Tip: After publishing your web story, go back to step one. As it is very essential to maintain consistency in publishing your web stories to increase viewers.
► What are some useful SEO tips to create Google Web Stories?
If you want to make your Web Story a success then it is important to make the best use of SEO. Web Stories are a new addition to the web and it requires additional efforts to make them reachable to your target audience.
Make sure to use all the SEO skills you have at hand to make your web stories successful. Here are some useful SEO tips to create web stories.
Tip 1: Link your web stories and integrate them into your website. It increases your discoverability as Google treats web stories as web pages.
Tip 2: Include captions, subtitles, and descriptions to your images and videos.
Tip 3: Use semantic markup in your web stories. You can also use the AMP formatting tools to create rich content.
Tip 4: Make sure to attach Metadata to your stories as it is a very essential element in web stories.
► Can we help you with your Google Web Stories?
We believe that the appropriate use of SEO can attract a lot of traffic to your website and apps and increase conversion rates. You'll find us up-to-date with all the latest SEO trends that can help you boost your business.
We hope this blog has helped you in understanding the in and out of Google Web Stories and knowing why it is really important. Are you still confused about where to begin with Google Web Stories? Contact us and we'll be happy to take your SEO to the next level.