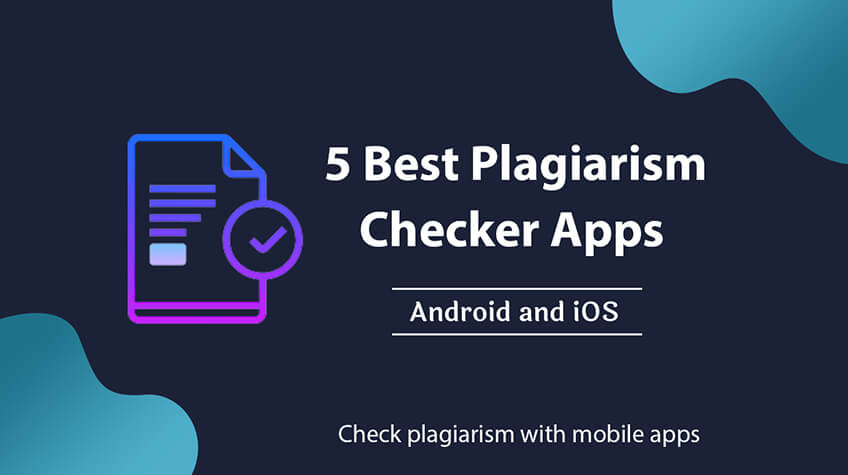 Many writers or bloggers have reported that they were not able to experience better outcomes from their work as they have expected.
They said that they have put a lot of effort into their work but all of these went in vain.
The main reason behind such a huge number of unsuccessful writers is ordinary content with the same layout.
Many writers just paraphrase a specific article or blog and publish it as their content. No one can replace all the synonyms with original words.
Meanwhile, they become guilty of plagiarism, which is the worst act according to a search engine ranking interface.
Therefore, you should write something unique, fresh, and perfect to experience memorable results as expected. The Internet has played a bad role in this regard as it has reduced creativity by the human mind.
According to simple research, writers have stopped to provide creative content in the past decade. Due to the availability of data on the internet, no one thinks out of the box to write something fantastic.
To avoid such issues that create hurdles in your progress, you must get a plagiarism checker. With the help of such tools, you will be able to check and verify the uniqueness of your writing quickly.
Before that, you must understand what plagiarism is. It is a duplication of other's work without getting permission from them.
In this process, a writer does not give any credit to the original author and uses his writings without making a little change. Some people also do partial duplication while working on an assignment.
So, it all depends on what kind of plagiarism you are doing in your work.
Many bloggers and writers deal from their mobile phones instead of sitting and using a laptop. That is why we have collected a fine list of the top 5 plagiarism checkers for Android and iOS.
You can pick any of them and install them on your device without facing any hurdles.
Check Plagiarism with mobile apps
Due to an extensive list of mobile apps, a user may get the wrong one. He won't be able to work efficiently and keep showing bad results regarding the quality of work.
Here is the list of the best 5 apps that you can use fearlessly.
Only a few apps are available that can work on both Android and iOS devices. Prepostseo plagiarism checker is one of those specific cross-platform working apps.
You can download and install this application from both the app store and the play store.
With this plagiarism checking app, you can check out how much content you have copied intentionally or unintentionally.

You only have to download its iOS app or Android app to make an account. Once you have registered an account, you can input data to check the uniqueness of your working.
The tool will check it deeply with all the published documents on the internet. It will also evaluate libraries, books, journals, and research papers.
So, your check will not leave a single paper unchecked while you are using this tool. The only thing that you might face is word count limitation for free users.
You can only evaluate documents of a maximum of 1500 words with a registered but free account. For excessive word count, you can split your content into patches having 1500 or fewer words.
If you want to check thousands of words daily, we recommend you buy a paid subscription to this application. With this, you can check without disturbance in your work.
In addition to this, you can visit Prepostseo plagiarism checker to work on your desktop if you want.
2. Skandy Premium
Here is another plagiarism checker for both Android and iOS users. With this application, the process to check for plagiarism has become easy and fast.
With simple clicks, you will get a percentage of plagiarized and unique content. First of all, you have to register with this app and confirm it through an email sent in your given mail.
Once you have verified your account, you can check plagiarism from word documents, images, scanned data, and many other formats.

This is an amazing feature of this app that you won't be restricted to written data only. The only drawback of this app is that you can't use it without investment.
Yes, you have to buy credits to use even a single service of this application. Also, you will find ads displayed in many sections of your mobile screen while using this even after purchase.
Due to these problems, we don't recommend this app for beginners as they will not be able to deal with these issues.
3. Synword
Synword is an Android application that you can download from the Google play store. It is pretty much simple to use this as it does not require the user to deal with complex actions.
Synword is a rephrasing application that allows you to rewrite the copied content and make it unique. Now, you can check plagiarism with this application.
It means you can deal with the entire process using this single application. The only problem while using it is that you can't use plagiarism checkers freely.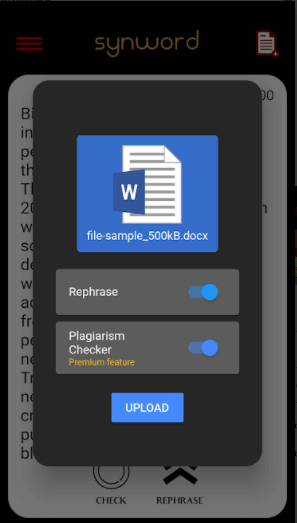 This application is only serving premium members with this facility. Abide by subscription discussion, it is a good and efficient tool overall.
With this application, you can input data in Word file format by choosing the upload section. It has made this process easier and efficient as compared to other apps.
4. Research Experts
Research experts is not a mobile application only but it is a team of experts. On this platform, you can resolve multiple problems regarding duplication of writings in your work.
It is basically an application to deal with Education problems like research papers. Through Research Experts, you can check plagiarism, hire experts to resolve the problem, and make your paper unique.

This application is 100% paid and you can't even do a simple task without paying for this platform. It has an amazing feature of auto-pricing with which you can calculate the price of every document on your own.
After uploading your document to make it plagiarism-free, you will get a fee according to the number of pages. So, you can decide whether it is suitable for you to hire them or step back.
Just download this app on your Android mobile and get a chance to work with a team of experienced persons.
5. Plagiarism Remover
Here is another tool to check and remove plagiarism freely. It is a 100% free mobile application with which you can check plagiarism, remove it, and check grammar.
This tool will compare your given data with the maximum pages available on the internet. It will do a deep check to evaluate books available in online libraries.

In addition, it is made for almost every user without taking his field into account.
The only factor that is considered worst in this application is an advertisement. This application will show ads on almost every action that is being made with its keys.
Wrapping Up
If you are a blogger and want to check plagiarism using your handy device, you can choose any of the above apps. You can check any of them as per your operating system and make the work easier.
In addition to this, all these applications are efficient enough to find every matched source of your document.