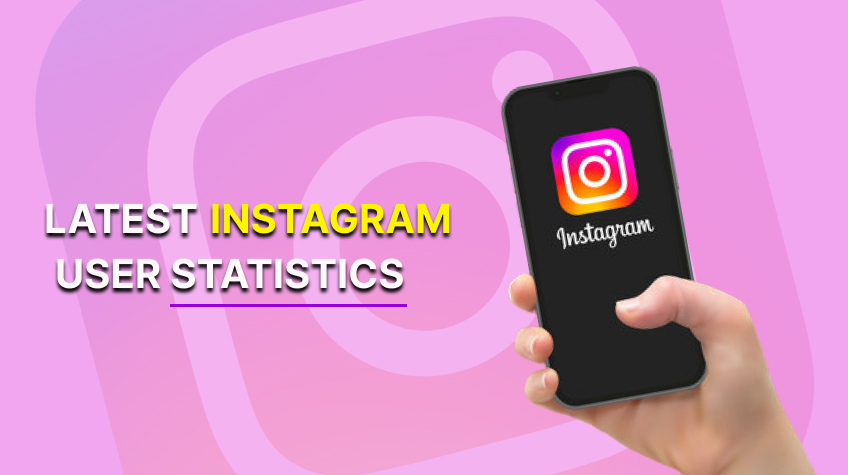 Instagram is one of the world's leading social media platforms. People worldwide use this social media platform for numerous reasons, including social media marketing. Instagram currently ranks as the world's eighth most popular website. So, if you're wondering how many people use Instagram, then this post, instagram user statistics, is for you.
Since its inception in 2010, Instagram has undergone significant development. The 'Gramme began as a simple photo-sharing app; however, today, it is used for myriads of purposes, including making friends, exhibiting your work, promoting brands, buying and selling goods, and so on.
In this post, we will discuss with you Latest Instagram User Statistics (2023). These statistics will help you make informed social media marketing decisions.
So, let's get started…
Table of Contents
LATEST INSTAGRAM USER STATISTICS (2023)
Official Number of Instagram active Users (Monthly & Daily)
According to research, Instagram has 4.25 billion total visitors per month, making it one of the top 10 most frequently used social media handles in the world. In terms of daily global active users, Instagram comes at number 4 with 1.386 billion daily users after Facebook, YouTube, and WhatsApp.
The Number of Instagram Downloads
When it comes to the number of Instagram downloads it was the second most downloaded app worldwide in 2022, trailing TikTok with approximately 3.8 billion downloads.
Instagram User Growth Rate History
Instagram has been adding around 100 million new users every 4 to 9 months since 2014, and this user growth rate has remained consistent since then. The number of new users that joined the platform increased by an astounding 200 million during the period of September 2017 to June 2018. In 2019, the rate of new users grew by 6.7%. The number of Instagram users is expected to increase by 400 million by 2025.
Average Active Time
Research indicates that the average American uses Instagram for 30.1 minutes every day. All in all, users spend an average of 11.7 hours/month on Instagram. When compared to other social media sites, it comes fourth after Facebook, YouTube, and WhatsApp. In any case, that adds up to over half a day per month spent viewing content on the site.
Social Media Rankings – Instagram
There are currently about 4.48 billion active social media users around the world. Over 4.25 billion individuals around the world use Instagram each month, making it the fourth most popular social media platform overall. Facebook, Twitter, WhatsApp, and Instagram are four of the six most popular social media platforms, and they are all owned by Facebook itself.
As of May 2023, facebook.com is the most visited social media network website. Visitors spend an average of 10:38 minutes each day. At number two, we have Twitter. Users spend an average of 10:46 minutes on each visit to twitter.com. Whatsapp.com is the third most visited platform, where average users spend around 18:07 minutes each day. Instagram is at number four, where users spend around 08:22 minutes each day.
Instagram User Statistics
Around 0.1% of social media users use only Instagram users. Whereas 99.9% of social media users have accounts on additional social networks in addition to Instagram.
83% of Instagram users also have a Facebook profile, 56% of Instagram users also have a Twitter account, and 52% of Instagram users also use TikTok.
Men make up 52.2% of Instagram's active users, while women account for 47.8%. This is a change from previous years when women comprised a significantly larger proportion of the audience.
Approximately 47% of American adults are Instagram users. Research indicates that roughly half of all citizens in the United States use Instagram. 40% of Americans use Instagram at least once per week.
Instagram is the most prevalent social network among Millennials. Instagram is the most popular social network among 16- to 24-year-old internet users worldwide, even surpassing TikTok in this demographic.
It is also the preferred platform for women aged 25 to 34, whereas males in this age range prefer Facebook.
India has the largest number of Instagram users in the world. Around 249 million users use Instagram in India, followed by 147 million users from the United States.
Brazil, with 117 million consumers, ranks third after Indonesia and Turkey.
Instagram Stories & Reels Stats
The audience size for Instagram Stories advertisements is approximately 996 million. Instagram stories reach 1.32 billion users; that's the reason Instagram stories are the mainstream advertising option today. This is likely to change within the next year as advertisements for Reels become more prevalent in mainstream media.
Instagram Reels has a potential advertising audience of 758,5 million. Because Instagram is the most prominent social media platform, people are more likely to connect with brands through it.
The average engagement rate for commercial Instagram posts is 0.54 percent. Research indicates that Instagram is the top platform for keeping up with their preferred brands in comparison to other platforms.
Instagram's advertising operation generated 43,2 billion dollars worldwide in 2022. This is a modest increase compared to 2021 when the platform's ad revenue totalled $42.1 billion.
Most users use Instagram for publishing and sharing their photographs and videos. According to a report, 69.7% of Instagram users post or share photographs and videos on the platform. As a result, it has become the most popular activity on the platform, indicating that individuals desire the opportunity to be creative and express themselves.
Instagram is rapidly becoming one of the most preferred social media channels for providing customer service, as a growing number of individuals use Instagram. According to a study, 35% of American consumers use Instagram for customer service. Instagram is considered one of the best platforms to to gain a competitive advantage and enhance the quality of the user experience overall.
Over sixty percent of Instagram's user base falls within the 18 and 34 age ranges. The platform is ideal if the majority of your target audience consists of Millennials and young people.
Current Instagram Advertising and Marketing Stats
When people see a brand's advertisement on Instagram, their interest in the brand is piqued. According to internal Instagram statistics, 50% of Instagram users report increased interest in a brand after viewing its advertisement on Instagram. This is a potent example of the impact Instagram advertising can have on your brand. So, if you are planning to make the most out of social media marketing, Instagram advertising is a worthwhile option.
The click-through rate (CTR) for ads in Feeds is higher than the CTR for ads in Stories. According to research, the CTR for Instagram feed advertising can range anywhere from 0.22% to 0.88%. In the interim, the CTR for Stories advertisements ranges from 0.33% to 0.54%. According to these numbers, in-feed advertisements are more likely to generate visits than Stories advertisements. However, you can consider conducting experiments with various ad placements to determine which one performs best with your target demographic.
Instagram may have a competitive advantage over other social media platforms when it comes to user engagement. In comparison to other platforms such as Facebook, Twitter, and Pinterest, the average cost per click (CPC) for Instagram advertisements is astoundingly low at $3.56.
Depending on the quantity of exposure, conversion rates can range from 0.30 percent to 2.60 percent. There is a correlation between a brand's conversion rate and its Instagram reach. The study revealed that businesses are more likely to reach their target audience when they have a reduced following size.
In fact, brands with fewer than 10,000 followers encountered a 2.6% higher conversion rate than average. During the same time frame, the average conversion rate for some of the most successful brands was 1%.
It should come as no surprise that Reels on Instagram have the maximum reach rate of all media types. According to recent findings, the reach rate for Reels is 14%, whereas it ranges between 9% and 10% for other forms of media. Compared to other types of media, such as carousels, photographs, and videos, Instagram reels top the list.
Instagram Reels claim an average engagement rate of 1.95%. Reels not only have a very high rate of reach but also a significant quantity of interaction. This places it in a prominent position relative to other forms of media. Therefore, the creation of supplementary Reels that appeal to and engage your target audience could be advantageous for your brand.
70% of online consumers consult Instagram prior to making a purchase. This indicates that this is where people go to get ideas for their future purchases and learn about new products.
A substantial number of Instagram users both observe and conduct brand-related research on Instagram. This means Instagram can be the best place to advertise your brand to attract your target audience that is already using Instagram.
Instagram User Demographics
List of top countries with their instagram audience demographics details:
| | |
| --- | --- |
| Country | Instagram users (MM) |
| India | 180 |
| United States of America | 170 |
| Brazil | 110 |
| Indonesia | 93 |
| Russia | 61 |
| Turkey | 50 |
| Japan | 48 |
| Mexico | 37 |
| United Kingdom | 29 |
| Germany | 27 |
Top Instagram Users, Categories & Creator Earnings
Here are the top Instagram profiles that have the most followers worldwide:
1. Instagram (@instagram)
Followers: 645 million
Category: Social Media
When it comes to the top Instagram profiles, Instagram tops the list with 645 million followers. Many of its posts feature famous, innovative, or attention-worthy creators, such as @sharawangsamulia (shown above), Pua, an Instagram-famous mini-pig, and Hoyeon Jung, a global celebrity model and actress best known for her role in the film Squid Game.
2. Cristiano Ronaldo (@cristiano)
Followers: 593 million
Category: Sports
Cristiano Ronaldo, the famous professional footballer, has 593 million followers on Instagram. Ronaldo is very famous among his fans and followers; that's the reason he has such a huge following on Instagram.
3. Lionel Messi (@leomessi)
Followers: 475 million
Category: Sports
Followed by Cristiano Ronaldo, Lionel Messi is third on the list with 475 million followers on Instagram. The Argentine footballer has successfully garnered a large following on Instagram by showing that he is highly skilled at using social media as well.
4. Selena Gomez (@selenagomez)
Followers: 423 million
Category: Entertainment
At number 4, we have Selena Gomez. Gomez has always been upfront about her decision to stay away from social media. Nonetheless, she has still managed to stay in the top 10 Instagram users. Her photos and Insta posts make for wonderful fodder for her feed, while at the same time, Gomez makes use of her platform for the greater good by being upfront about her struggles with mental health and pushing her fans to educate themselves on the significance of maintaining mental wellness.
5. Kylie Jenner (@kyliejenner)
Followers: 395 million
Category: Entertainment
Kylie Jenner broke the record for most followers when she surpassed 300 million followers on Instagram. Jenner, who is known for her Kylie Skin, Kylie Cosmetics, Kylie Swim, and Kylie Baby brands, is still going strong.
6. Dwayne "The Rock" Johnson (@therock)
Followers: 385 million
Category: Entertainment
The Rock, a former World Wrestling Entertainment champion and a popular Hollywood movie star, and a possible future presidential candidate, comes at number 6 on the Instagram users list. He has created his ever-increasing following by providing a very inspiring feed of life and workout inspiration, along with the occasional tequila shot. The guy has built a mesmerizing fan following on Instagram with 385 million followers.
7. Ariana Grande (@arianagrande)
Followers: 375 million
Category: Entertainment
Ariana Grande, the American pop singer, and actress, has acquired position number 7 in the list with 375 million Instagram followers. The American actress has been providing her followers with a multitude of reasons to continue following her. There is a lot more to look forward to from this celebrity, as evidenced by her feed, which is full of hints about what she is currently working on and insights into her personal life.
8. Kim Kardashian (@kimkardashian)
Followers: 360 million
Category: Entertainment
It should come as no surprise that Kim Kardashian is one of the top ten Instagram users. The girl never misses any chance to stay on top. Kim Kardashian is a well-known personality not only in Hollywood but also on social media platforms like Twitter and Instagram. She has over 360 million followers alone on Instagram. In addition to this, she is a member of the Kardashian family and has appeared on the television show "Keeping Up with the Kardashians." She rose to prominence as a result of her appearance on this show. Instagram users are drawn to her account because of her engaging posts on Instagram.
9. Beyoncé Knowles (@beyonce)
Followers: 312 million
Category: Entertainment
Beyoncé, a famous American singer, songwriter, and actress, has 312 million followers on Instagram. And you'll be surprised to know that the singer follows no one on Instagram. The 40-year-old singer continues to give her followers the occasional intimate insight into her and her family's world through social media. The Lemonade artist leaves no stone unturned to make use of Instagram to reach out to her fans.
10. Khloe Kardashian (@khloekardashian)
Followers: 309 million
Category: Entertainment
At number 10, we have Khloe Kardashian, with 309 million followers. The girl is known to keep her Instagram handle uplifting and positive with her catchy posts, and that's the reason she has managed to stay in the list of top 10 Instagram users. Instead of focusing on her detractors and the shame they heap upon her online, Khloe Kardashian chooses to "highlight the positive" by posting motivational sayings and phrases.